Reading time ( words)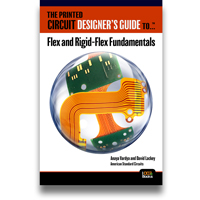 American Standard Circuits has just released The Printed Circuit Designer's Guide to… Flex and Rigid-Flex Fundamentals, part of the newly launched I-Connect007 eBook series. Anaya Vardya, President and CEO, and Dave Lackey, Director of Business Development, co-authored this guide which is meant to help PCB designers and engineers to design and layout the most efficient, productive and economical flex and rigid-flex boards possible.
"We found that when we are working with companies who need flex and rigid-flex PCBs, the best course of action is to work closely in partnership to ensure they receive the best quality and value," Lackey said. "We want to make sure our customers get exactly what they need for their end-products the first time around, and this book is another step to helping them do that."
Vardya added, "This guidebook is based on the many conversations we have had with our customer partners, helping them to gain a complete understanding of this technology. We also consider this our gift, American Standard Circuits' gift to the industry. This unique guidebook will be available to everyone through a free download on our eBook website."
This eBook has something for everyone. In addition to guidance on key callouts, design considerations and material sets for optimum manufacturability, there are plenty of do's and don'ts for fabricators, cost drivers for OEMs, and key information on data package requirements for contract manufacturers.
The Printed Circuit Designer's Guide to… Flex and Rigid-Flex Fundamentals is a must-read for anyone using flex and rigid-flex technology.
To download this eBook for free, go to I-007eBooks.com/flex-rigid-flex.
About American Standard Circuits
American Standard Circuits (ASC) prides itself on being a total solutions provider, manufacturing quality rigid, metal-backed, RF/Microwave, flex, and rigid-flex PCBs for the medical, automotive, industrial, defense, and aerospace markets in volumes from test and prototypes to large production orders. ASC has the expertise to provide a wide variety of technologies in a time-critical environment. Their qualifications include AS9100 Rev C, ISO 9001:2008, MIL-PRF 31032 certification and ITAR registration. American Standard also holds a number of key patents for metal bonding processes. For more information about American Standard Circuits services or to ask one of their technology experts a question, visit www.asc-i.com.
About the I-Connect E-Book series:
The Printed Circuit Designer's Guide to…is an ongoing series of micro eBooks specifically dedicated to the education of designers our industry. This book series will become the gold standard for people seeking the most relevant information available. Visit our series library at I-007eBooks.com
Look for these other exciting titles in our new micro eBook series:
Coming soon:
The Printed Circuit Designer's Guide to… Secrets of High-Speed PCBs, Part 1 by Polar Instruments
The EMS Buyer's Guide to… Procuring High-Complexity Electronics by Zentech
The Printed Circuit Buyer's Guide to… Simulation and Analysis by Mentor Graphics
Share
Print
Suggested Items
06/26/2020 | Nolan Johnson, I-Connect007
Updates on trade shows, conferences, and associations dominated industry news this past week. Some events are returning to a physical venue; others are opting for a virtual version in 2020. Add to that a spate of cross-association cooperative agreements and new programs for career development coming from multiple associations, and you've delivered four of my top five picks.
03/09/2020 | Pete Starkey, I-Connect007
Pete Starkey recaps how the 2020 EIPC Winter Conference, held in mid-February, attracted around 90 delegates from a dozen European countries—as well as a few from North America—to an outstanding learning and networking experience for members of the PCB community. The theme of this year's event was: "The Needs for Next-Generation Electronic Devices and Changes in Fabrication Solutions for PCBs, PCBAs, Materials, and Technologies."
02/26/2020 | I-Connect007 Editorial Team
In this video interview from the show, Technical Editor Pete Starkey and Ventec COO for Europe and the Americas Mark Goodwin discuss Ventec's latest high-speed, low-loss, high-frequency materials as enablers for 5G and Industry 4.0.