Reading time ( words)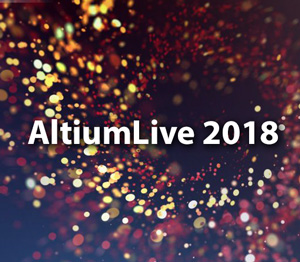 At the AltiumLive 2018: Annual PCB Design Summit, Altium announced its new cloud infrastructure that facilitates better, more connected collaboration across all design and product realization disciplines. Altium 365, a cloud-based platform, is the first step in directly connecting desktop printed circuit board (PCB) design with the manufacturing floor. With availability targeted for December 2018, Altium 365 seamlessly integrates with Altium Designer 19 and leverages the power of cloud to connect designers, component distributors, and manufacturing stakeholders and makes it easy and convenient to share information and design collaboratively.
With the vision of one day providing designers with real-time feedback on the manufacturability of their designs directly from manufacturing equipment, Altium 365 allows designers to share working schematics and 3D board designs with manufacturers who can comment and markup designs in real time using only a web browser. This accelerates the process of going from design concept to manufactured board.
"Today I have to release a design in flat files, spreadsheets, and images, send it to a manufacturer, and wait two days to get something back — in yet another format — that tells me how to adjust my design so that they can build it," said Jeremy Blum, director of hardware at Shaper Tools. "And for every design I generally have to do that 3 or 4 times."
Altium 365 makes it easy to keep product design and manufacturing in sync. Designers simply share any design with a manufacturing partner, and that partner can interact with the design from any device, on any operating system, and guide the designer towards choices that will assure that the board is manufacturable.
Component pricing and availability is another common issue that slows product development.
"Everyone who designs has experienced selecting a part that literally seems to disappear from every distributor in the world when they send it to be manufactured," said Blum. "That forces you to make more changes and waste more time."
Altium 365 — powered by Octopart — provides a live connection between the manufacturing bill of materials (BOM) and component data, to help guide designers toward using parts that meet cost, availability, and lead-time constraints.
"This is an important - but only first - step towards delivering on our vision for helping to transform the electronics industry," said Altium's Chief Operating Officer Ted Pawela. "Altium 365 will ultimately provide direct, real-time connectivity between design, supply chain, and the people and equipment on the manufacturing floor to achieve this."
With initial release targeted for December 2018, Altium 365 provides a number of software-based services, accessed seamlessly through Altium Designer or from any web browser. These services include design to manufacturing collaboration, live component supply chain information, library management, and ECAD/MCAD co-design. Altium 365 also provides Altium customers a simplified means to manage their Altium product licenses, subscriptions, and users.
Exciting New Enhancements in Altium Designer 19
Along with Altium 365, Altium has also announced the upcoming release of its widely used PCB design software, Altium Designer. Altium Designer 19 builds upon the significant performance and reliability improvements of its predecessor, Altium Designer 18, with further performance and reliability enhancements including a new 3D design engine, basic MCAD capabilities, and more.
Altium Designer 19 also brings important new capabilities for users, including high-speed design features, improved routing, and microvia support. Altium Designer 19 will also be the first release to be connected with the Altium 365 cloud-based platform, delivering the world's first seamless design to manufacturing floor experience. Altium Designer 19 will be showcased on the second day of the AltiumLive 2018: Annual PCB Design Summit.
About Altium
Altium LLC is a multinational software corporation headquartered in San Diego, California, that focuses on electronics design systems for 3D PCB design and embedded system development. Altium products are found everywhere from world leading electronic design teams to the grassroots electronic design community.
With a unique range of technologies Altium helps organisations and design communities to innovate, collaborate and create connected products while remaining on-time and on-budget. Products provided are ACTIVEBOM, ActiveRoute, Altium 365, Altium Designer, Altium Vault, Altium NEXUS, Autotrax, Camtastic, Ciiva, CIIVA SMARTPARTS, CircuitMaker, CircuitStudio, Codemaker, Common Parts Library, Draftsman, DXP, Easytrax, EE Concierge, NanoBoard, NATIVE 3D, OCTOMYZE, Octopart, P-CAD, PCBWORKS, PDN Analyzer, Protel, Situs, SmartParts, TASKING range of embedded software compilers and Upverter.
Founded in 1985, Altium has offices worldwide, with US locations in San Diego, Boston and New York City, European locations in Karlsruhe, Amersfoort, Kiev, Munich, Markelo and Zug, and Asia Pacific locations in Shanghai, Tokyo and Sydney. For more information, click here.
To learn more about Altium 365, click here.
Visit I-007eBooks to download your copy of Altium's micro eBook today: The Printed Circuit Designer's Guide to... Design for Manufacturing.
Share
Print
Suggested Items
06/04/2020 | Andy Shaughnessy, Design007
On June 2, components distributor Digi-Key Electronics announced the release of PCB Builder, a tool that lets customers have PCBs shipped directly from the fabricator. PCB Builder also allows customers to perform file layer checks and receive instant quotes from multiple fabricators. Andy Shaughnessy spoke with Josh Mickolio, supplier business development manager for Digi-Key, about the development of PCB Builder and what this tool means to PCB designers and design engineers.
05/14/2020 | Todd Westerhoff, Mentor, a Siemens business
As engineers, we work in the middle of a (usually long) process chain. It's sort of like working on an intellectual assembly line—we get requirements and data as input, perform our particular task, and then provide our output as requirements and data to the next person on down the line. It seems easy enough. So, why is it that so many of the requirements we're supposed to meet and so much of the data we receive is downright bad?
04/03/2020 | Andy Shaughnessy, I-Connect007
In this interview, Editor Andy Shaughnessy speaks with Manny Marcano, president of EMA EDA Automation, who shares an update on the company's current level of business operations under COVID-19 restrictions. Marcano explains that EMA is classified as an essential business due to its work with the defense segment and that employees are now working from home. He also discusses the company's free work-from-home license offer and why he is available to help any designers or design engineers who have questions during these changing times.