Reading time ( words)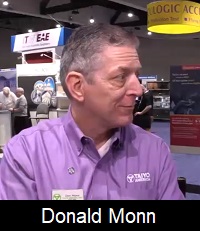 Donald Monn, Midwest regional sales manager for Taiyo America, turns the tables on I-Connect007 Technical Editor Pete Starkey and quizzes him about his knowledge of Taiyo's new crack-resistant white solder mask for automotive, and the company's standard photoimageables re-formulated for laser direct imaging (LDI) that avoid the need for UL requalification.
To watch the interview, click here.
Share
Print
Suggested Items
12/28/2020 | Pete Starkey, I-Connect007
For the third in a series of Technical Snapshot webinars, EIPC chose to focus on PCB surface finishes, comparing specific properties, examining corrosion behaviour and discussing selection criteria for low-loss, high frequency applications.
12/15/2020 | Happy Holden, I-Connect007
This is the first Electronic Circuits World Convention that I have not attended in person since 1978. To refresh your memory, these are held every three years on a rotating basis. The HKPCA hosted this year's conference and they kept up the fine tradition of collecting outstanding keynotes, nearly 60 technical presentations and myriad poster papers. HKPCA was also kind enough to provide English slides and translations. It is still possible to sign up and view the presentations. I have listened to 20 of the presentations, and hope to attend even more in the coming days as they are all worth watching.
12/08/2020 | Nolan Johnson, I-Connect007
Nolan Johnson recently spoke with the Pacothane Technologies team about the current drivers of circuit board technology and how that has influenced and increased their product development of lamination and lamination assist products.