Reading time ( words)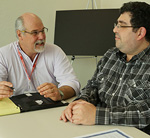 Kelly Dack: Thank you for the opportunity to visit Hunter Technology. And congratulations to you both for achieving IPC's Certified Interconnect Design certification. I enjoyed having you both in my class.
Jeff Davidson: Thank you.
Zev Gross: Thank you, Kelly.
Dack: Tell us, not many people get an opportunity to tell the world about the experience. What's it like going through the certification process?
Davidson: Well, there was a lot of information in the book, but I thought it was pretty straightforward. And the materials are sent to us beforehand.
Dack: Zev, what was it like for you? As one of our more vocal students in the class, it seemed like you had a take on every concept that we discussed, and it blended right in with where we were going; as an instructor, it was very helpful to have your commentary in the class.
Gross: First of all, the feeling is great to have certification in our field, which is typically uncommon. I thank you for teaching us. The commentary stems from the fact that I come from a lot of different environments, both abroad and here, which give me a take on many of the issues that we were learning about.
Dack: The purpose for obtaining your CID certification is based on credibility or challenge or what, exactly?
Davidson: I think having that certificate is a sign of credibility, especially with IPC being the industry standard.
Dack: Here's the way it might be explained for some: We just walked through your plant, and I noticed that, at every step of the way in the PCB assembly process, things are checked and measured and verified. Isn't the CID program a way of measuring the capability or the learning and the knowledge of the designer? Can it be explained like that?
Davidson: Yes, absolutely. Our designs have got to be able to go through all those steps and they must pass all their measurements and verifications, so it's nice to make sure that we're doing it correctly, so that the people down the line can do it correctly.
Dack: Along with the credibility of CID, there is an advanced class. Do you both plan to take the advanced certification?
Davidson: Absolutely, I do.
Gross: Yes, I do as well. We want to get more familiar and in-depth with our field and terminology, which are more standardized than what we typically do. It's nice to have it on paper. There are many benefits for us as designers.
Dack: Many more concepts are built on from the basic course. You'll be going into the high-speed areas and much more, so look forward to that. Along with the class, it was part of the prerequisite to sign up and check out the IPC Designer Council, which seems to be revving up across the country. Have you done that?
Gross: Yes, we both have signed up with the Silicon Valley chapter, I believe. We're looking forward to seeing both of our names on the CID Certified section.
Dack: And attending your first meeting, hopefully soon.
Gross: Yes, definitely.
Dack: Well, I'd like to again congratulate you both and thank you so much for having me to your plant. Your design area is top notch. In fact, I made a promise that I wouldn't keep you too long because you've got a customer waiting back there and he is fully expecting high-quality CID design right now, isn't he?
Davidson: Exactly. Thank you, Kelly.
Gross: Thanks, Kelly.
RELATED ARTICLE:
Hunter Technology on Design Operations and Business Strategies
Share
Print
Suggested Items
02/12/2021 | Steven V. Chavez, CID+
The library management of footprints, land patterns, or cells—however you refer to them in your ecosystem—is one of the most critical items in the foundation of any PCB or CCA design. When I was asked to write an article on this topic, so many thoughts and experiences instantly flooded my mind. After 30+ years of designing PCBs throughout the industry, I have my share of experiences and stories about footprints. One particular experience stands out.
02/02/2021 | Andy Shaughnessy, Design007 Magazine
I recently spoke with Al Neves, founder and CTO of Wild River Technology, about the release of their new ISI-56 loss modeling platform. Al explains why it was so critical that this tool meets the stringent requirements of the IEEE P370 specification (which he helped develop), and why he believes this is currently the best tool for SerDes testing and characterization.
02/01/2021 | Eric Bogatin, University of Colorado, Boulder
Rarely do we have the luxury of designing a board just for connectivity. When interconnects are not transparent, we must engineer them to reduce the noise they can generate. This is where design for signal integrity, power integrity and EMC—collectively high-speed digital engineering—are so important. Eric Bogatin offers seven tips for stackup design.