Reading time ( words)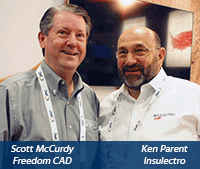 While on the show floor of IPC APEX EXPO 2015, I sat down with Ken Parent of Insulectro for a quick chat about the strategic alliance that Insulectro is pursuing with Freedom CAD. Ken explained to me how this new strategic effort is working, and what it means for customers—and OEMs.
Barry Matties: Ken, I'd like to begin with you telling me more about your strategy with Freedom CAD.
Ken Parent: Well, the reason that we invited Freedom CAD into our booth here at IPC APEX EXPO is that, between Isola and DuPont, they are bringing 12 new laminate systems to the market. Isola Rigid CCL and DuPont Flex Laminate systems offerings are expanding to meet the changing needs of the market place. We know at Insulectro the only way we're going to get these materials into our fabricator customers is if they get designed into the OEM products. And the only way they're going to get into the OEM products through design is through people like Freedom CAD. That's the reason that we brought Freedom CAD into our booth. Our affiliation with Freedom CAD is a collaboration in bringing innovative solutions to the OEMs through our material knowledge and their design expertise. It's just really more of a message to the industry: Insulectro is bringing new materials to the market through designs by working with our fabricators and the OEM. We have branded this collaborative effort as ACT! Accomplish Change Together.
Matties: It sounds like an alliance, basically.
Parent: It is an alliance, yes.
Matties: When your salespeople go out, is the target to actively sell their services?
Parent: No, not really. The goal is to make sure our customers know that we recognize that, in order to get the new material on the print, it has to be designed in. The design is done by people like Freedom CAD or by the OEMs, in some cases. The message is, "Mr. Fabricator, help us help you bring new products to the market to strengthen your relationship with your customer."
Our customers are coming to us looking for the next-generation technology. We want to differentiate ourselves from our competitors, so we're enabling our customers to differentiate themselves from their competitors by having new materials and design services. So they know that there are new materials that are obviously coming to the market to be better than the materials of today, even though there are still very good, mature materials on the market.
For example we still sell a lot of Isola 370HR and DuPont® Pyralux AP, which are great materials, but they are not great for everything. They are not great for the highest signal integrity demands or for high temperature devices that are demanding more and more in new applications. We have new materials because Isola and DuPont know what their customers are asking for from new materials. What we're enabling with this alliance, as you call it, with Freedom CAD, is we are bringing these new materials to both the OEMs and the fabricators, and putting them together in a design.
Freedom CAD is the company that we've been doing this with the longest. We are very happy with the work that we've done with fabricators and OEMs through Freedom CAD, and we expect to do a lot more of it in the future. Isola has ended up on prints for new designs to solve problems that are in the marketplace today.
Matties: It sounds like it's a successful strategy for you.
Parent: It has been successful. Like I said earlier, I'm looking forward to putting it on steroids because we've really just scratched the surface. We've been doing it for a couple of years now. Actually, Freedom CAD has come and talked to our sales force at our last two sales meetings, so it's not something that's new at this show. Scott Miller, the COO of Freedom CAD, has been at two of our sales meetings, participating on panel discussions about the importance of getting materials spec'd in. That's what we're doing.
Matties: Congratulations, Ken. It sounds like a good strategy.
Parent: Thank you.
Share
Print
Suggested Items
11/22/2019 | I-Connect007 Editorial Team
The annual HKPCA Show, which has been renamed the 2019 International Electronics Circuit Exhibition (Shenzhen), will be held from December 4–6 at the Shenzhen Convention and Exhibition Center. This year's exhibition will be jointly organized by the Hong Kong Printed Circuit Association (HKPCA) and the China Printed Circuit Association (CPCA) and will provide a more efficient business platform for all visitors. The PCB007 China Team interviewed a representative from the HKPCA about the exhibition, the industry's current situation, and future developments.
10/23/2019 | I-Connect007
Imran Valiani has been in the industry and with Rush PCB for over five years as an account manager. During that time, he has developed a keen and unique understanding of the importance of time to market. Imran has worked with a number of key customers, helping them develop systems and programs to ensure that most productive and fastest time to market possible.
09/04/2019 | Barry Matties, I-Connect007
Mike Wood, technical director with Cerambus Asia Pacific, discusses the acid copper product from Cerambus Technology Inc. that doesn't generate sludge during the plating process and operates at higher production output by using higher current density. He talks about why this is important for the state of the vertical continuous plating (VCP) market in Asia, and the trends he's seeing in that space.