Reading time ( words)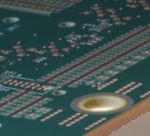 i3 Electronics, Inc announced today that it has earned the opportunity from a multi-national medical imaging conglomerate for the manufacture and advanced assembly of flexible substrates. This technology will be used to non-invasively measure real-time, three-dimensional organ abnormalities.
"i3 is a true enabler. From design, through fabrication, assembly and test, i3 provides a distinct advantage to our customers and their patients, with our life-saving technologies and world-class reliability," said Dale Kersten, Executive Vice President and Chief Business Officer at i3 Electronics.
About i3 Electronics
i3 Electronics, Inc., with headquarters in Endicott, NY, is a vertically integrated provider of high performance electronic solutions consisting of: design and fabrication of printed circuit boards & advanced semiconductor packaging; high speed laminate expertise; advanced assembly services; reliability & signal integrity reliability lab services; high speed back plane & press fit assembly; and flex, rigid-flex & 2.5 & 3D die assembly. i3 product lines meet the needs of markets including aerospace & defense, medical, high performance computing, industrial, telecom, semiconductor & test and alternative energy, where highly reliable products built in robust manufacturing operations are critical for success.
Share
Print
Suggested Items
10/18/2019 | I-Connect007
In a recent interview, Kelly Dack and Tara Dunn (Omni PCB president and conference co-chair) discussed why designers need to attend the SMTA Additive Electronics Conference. Tara will also be attending and moderating a panel discussion at the conference.
10/10/2019 | I-Connect007
Mainstream PCB manufacturing is often limited to 50-75 microns (mm) line and space. But the electronics industry is evolving quickly. Propelled by the demand for more sophisticated electronics, PCB design is being tasked with finer lines, thinner materials, and smaller via sizes.
09/18/2019 | I-Connect007 Editorial Team
Tara Dunn, president of Omni PCB and I-Connect007 columnist, and Lenora Clark, director of autonomous driving and safety technology at MacDermid Alpha Automotive, discuss what can be expected from the upcoming Additive Electronics Conference in San Jose, California, the impetus and motivation behind the conference, and who can benefit the most from attending.