Reading time ( words)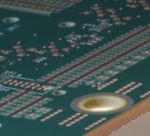 i3 Electronics, Inc announced today that it has earned the opportunity from a multi-national medical imaging conglomerate for the manufacture and advanced assembly of flexible substrates. This technology will be used to non-invasively measure real-time, three-dimensional organ abnormalities.
"i3 is a true enabler. From design, through fabrication, assembly and test, i3 provides a distinct advantage to our customers and their patients, with our life-saving technologies and world-class reliability," said Dale Kersten, Executive Vice President and Chief Business Officer at i3 Electronics.
About i3 Electronics
i3 Electronics, Inc., with headquarters in Endicott, NY, is a vertically integrated provider of high performance electronic solutions consisting of: design and fabrication of printed circuit boards & advanced semiconductor packaging; high speed laminate expertise; advanced assembly services; reliability & signal integrity reliability lab services; high speed back plane & press fit assembly; and flex, rigid-flex & 2.5 & 3D die assembly. i3 product lines meet the needs of markets including aerospace & defense, medical, high performance computing, industrial, telecom, semiconductor & test and alternative energy, where highly reliable products built in robust manufacturing operations are critical for success.
Share
Print
Suggested Items
06/21/2019 | Gen3
Interview between Emma Hudson and Gayle Paterson, founder of FLITE (Female Leaders in Tech, Everywhere).
06/12/2019 | Pete Starkey, I-Connect007
The Institute of Circuit Technology (ICT) held its 45th annual symposium on June 4, 2019 in Dudley at the Black Country Museum—a symbol of the spirit of innovation in engineering technology and the entrepreneurial and manufacturing skills that had established that region's supremacy in leading the original Industrial Revolution. Here's a recap of the events and presentations at the symposium.
05/30/2019 | Chris Mitchell, IPC VP, Global Government Relations
Top executives from electronics companies across the United States were in Washington, D.C., last week to call on the Trump administration and Congress to support policies that will drive the electronics industry's future growth in North America and worldwide.