Reading time ( words)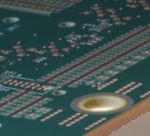 i3 Electronics, Inc announced today that it has earned the opportunity from a multi-national medical imaging conglomerate for the manufacture and advanced assembly of flexible substrates. This technology will be used to non-invasively measure real-time, three-dimensional organ abnormalities.
"i3 is a true enabler. From design, through fabrication, assembly and test, i3 provides a distinct advantage to our customers and their patients, with our life-saving technologies and world-class reliability," said Dale Kersten, Executive Vice President and Chief Business Officer at i3 Electronics.
About i3 Electronics
i3 Electronics, Inc., with headquarters in Endicott, NY, is a vertically integrated provider of high performance electronic solutions consisting of: design and fabrication of printed circuit boards & advanced semiconductor packaging; high speed laminate expertise; advanced assembly services; reliability & signal integrity reliability lab services; high speed back plane & press fit assembly; and flex, rigid-flex & 2.5 & 3D die assembly. i3 product lines meet the needs of markets including aerospace & defense, medical, high performance computing, industrial, telecom, semiconductor & test and alternative energy, where highly reliable products built in robust manufacturing operations are critical for success.
Share
Print
Suggested Items
05/21/2019 | I-Connect007 Editorial Team
Andy Kannurpatti gives the I-Connect007 team an overview of the latest news from DuPont Electronics and Imaging, including investments toward the new production assets in Ohio, Silicon Valley Technology Center, and other facilities. He also details how the company is engaging OEMs and PCB fabricators and design teams, as well as some exciting business updates coming this spring and summer.
04/03/2019 | Chris Mitchell, IPC VP, Global Government Relations
The United Kingdom's effort to leave the European Union, known by the nickname "Brexit," is bogged down in political uncertainty, which in turn is creating disruptions in the global economy.
03/11/2019 | Real Time with...IPC
Judy Warner speaks with Tim Redfern, Insulectro president, and Kevin M. Miller, VP of sales, about growth in the printed electronics market, the direction Insulectro is going, and opportunities for North American PCB suppliers. They note that the company will increase their focus and investment in the printed electronics market.