Reading time ( words)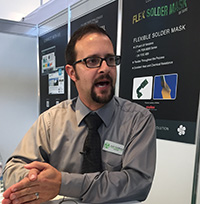 Taiyo America's Josh Goldberg agreed to spend a few minutes with me at productronica recently, where he indeed climbed out of the box and explored the broader market for high-performance polymer coatings in the electronics industry.
Pete Starkey: It's great to see you here at productronica, Josh. The show looks pretty busy and pretty active; what's your view of the market in general, and how do you see the market trends?
Josh Goldberg: With Taiyo, my specific function is not only looking at the PCB markets, but also looking at new markets. What that includes are areas where traditional soldermask may not have been thought of before, but the properties of it can transition very well into some new markets, specifically things like solar, displays, and lighting, as well as some printed electronics or roll-to-roll type printing for additive manufacturing of electronics. What I've been doing is visiting a lot of OEMs and research institutes, think tanks, as well as customers, and finding out what it is that they would like to see from Taiyo in the future. What types of materials, or material properties do they want to see? I think a good example of that is the LED market, for instance.
With the whole light bulb industry shifting from using tungsten filaments, it's left a large vacuum to fill that space. Some of the technologies positioned for the lighting market are LEDs, fluorescent lighting tubes, and OLEDs—organic LEDs. However, currently, it looks like LEDs are positioned to fill a lot of that space that was left behind by the tungsten type of light bulbs. What we've been doing is focusing specifically with the manufacturers and finding out what's critical to them for a soldermask property. Obviously, reflectivity is one of them, but there are also a number of other properties that they like to hit on as far as what they like to see out of a product from Taiyo. We've then been concentrating our resources into trying to boost Taiyo products to the next level. It is not just about solder mask on PCBs anymore, but more of a high-performance material for some of these new, high-performance types of devices.
Share
Print
Suggested Items
04/08/2020 | Nikolaus Schubkegel
A circuit board is made of copper. Usually, final finishes are applied after the solder mask process. In some cases, for special applications, the final finish may be applied before solder mask. In this case, we have solder mask on ENIG or galvanic nickel-gold. It is also possible to have tin or tin-lead under solder mask; this was an old technology that no longer plays a role today.
04/02/2020 | Nolan Johnson, I-Connect007
Nolan Johnson speaks with Lenora Clark about MacDermid Alpha's automotive initiative, where her role fits into the company's focus on supporting carmakers in various business areas, and where the future of automotive is heading.
03/11/2020 | Pete Starkey, I-Connect007
Back to Meriden, the nominal centre of England where the daffodils were blooming. A good crowd made it to the spring seminar that followed the Annual General Meeting of the Institute of Circuit Technology (ICT), with five specialist presentations and excellent opportunities to network with their peers in the industry. Pete Starkey shares his overview of the event.