Reading time ( words)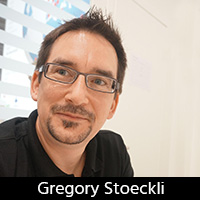 When the right equipment manufacturers find the right distributors, everyone wins—especially customers. I was able to meet with two such companies at productronica 2015 for an in-depth discussion. In this interview, Gregory Stoeckli, CEO of First EIE, shares the realities of direct imaging requirements, while Lawson Lightfoot of CCI Eurolam discusses the success of the new distribution partnership the two companies have formed. Something we all agreed upon: A somewhat slower machine that is both highly flexible and affordable is a great fit for high-mix, low-volume producers.
Barry Matties: Gregory, please start by describing the relationship between First EIE and CCI Eurolam.
Gregory Stoeckli: First EIE is an equipment manufacturing company and we design, develop and produce equipment. CCI Eurolam is our newly appointed distributor for Europe. We changed at the beginning of 2015 and I'm extremely impressed to see the amount of quality business we have had at productronica. The whole CCI team put in a lot of effort to make this happen.
Matties: That's excellent. Congratulations.
Stoeckli: I'm very happy about this new partnership. It's not like selling a car—you need to understand what the customers' needs are. You need to understand the wet process, starting from the copper preparation, lamination and exposure. So someone coming from the consumable field, knowing exactly what the customer needs and what they want, can sell our equipment and processes more effectively. But once you have sold it, you need to provide support. It's a strong match.
Matties: Lawson, you're providing the after-sales support as well?
Lawson Lightfoot: We are providing sales support initially and with First EIE's existing engineering resource, the after-sales technical support. Most of the people within CCI Eurolam are not just salespeople, but have a strong technical background. In fact, we tend to come from a PCB background and are very production-oriented. We have been involved both directly and indirectly in manufacturing boards ourselves for many years. Many of us have also come from other supply houses as well, which helps in providing an overall knowledge of the PCB manufacturing process. There is a wide range of skills within the whole group. CCI Eurolam has a presence in more than 48 countries in Europe and North Africa so we are able to provide both excellent sales penetration and the aftersales support to accompany this.
Matties: Gregory, please describe your product lineup for our readers.
Stoeckli: First EIE has been well-known for our photoplotters for almost 30 years. In fact, we started in the PCB industry with photoplotters, with a variety of products, from the small RP200 up to the very big RP800, whereas the RP700, with 50,000 dpi, is our flagship product. We just recently we got the order for a very big machine—1 meter 60 by 2 meter 40. This is a great achievement. It's not for PCBs, but for the touch panel industry in Korea.
First EIE is very well-established worldwide, with a strong position in Europe as well as Asia, from Japan to Taiwan, including South Korea, China, and obviously the other ASEAN countries. To serve our customers, we have provided continuous improvement and development in our photoplotter because the demands are evolving.
Of course, we also have the inkjet printer that does the legend ink. It's interesting to see that we are always among the top three players. We have something designed for production. This is a big difference from when we started 12 years ago, when the engineers designed a great piece of "engineered" equipment, but too complicated for production.
The CP562 is the third generation of equipment which was optimized for production. This means that on Monday you switch it on, and you can print. Everything is made automatically for maintenance; it surveys that the ink is always the right temperature. We have several of these machines in the field working with good success.
Share
Print
Suggested Items
04/08/2020 | Nikolaus Schubkegel
A circuit board is made of copper. Usually, final finishes are applied after the solder mask process. In some cases, for special applications, the final finish may be applied before solder mask. In this case, we have solder mask on ENIG or galvanic nickel-gold. It is also possible to have tin or tin-lead under solder mask; this was an old technology that no longer plays a role today.
03/17/2020 | All Flex
There are many types of connectors and termination methods available when designing a flexible circuit. One of the most common is the zero insertion force (ZIF) connector. The reason why the ZIF connector is so popular is that they eliminate the requirement for an added connector. They create a direct connection from the circuit to the mating connector reducing overall weight and cost. Here are a few general facts about ZIF connectors.
03/11/2020 | Pete Starkey, I-Connect007
Back to Meriden, the nominal centre of England where the daffodils were blooming. A good crowd made it to the spring seminar that followed the Annual General Meeting of the Institute of Circuit Technology (ICT), with five specialist presentations and excellent opportunities to network with their peers in the industry. Pete Starkey shares his overview of the event.