Reading time ( words)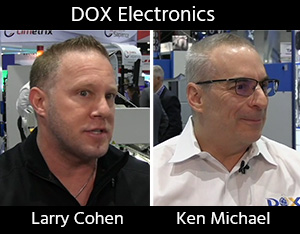 During IPC APEX EXPO 2020 in San Diego, California, the I-Connect007 Editorial Team met with some of the industry's top executives, managers, and engineers.
In this video interview from the show, Managing Editor Nolan Johnson speaks with two DOX Electronics technologists, founder and VP Ken Michael and senior account executive Larry Cohen, about the new government cybersecurity requirements necessary to deliver DoD contracts. Ken and Larry also share their upcoming presentation on business security measures, both digital and physical. If you're bidding on DoD contracts, you won't want to miss this video.
IPC APEX EXPO is the largest PCB industry event in North America. The next IPC APEX EXPO will be held January 26-28, 2021, at the San Diego Convention Center.
To watch this interview, click here.
Share
Print
Suggested Items
04/30/2021 | Nolan Johnson, I-Connect007
This week's biggest news came in the form of industry briefings—there were a lot of them and the news was universally positive. The news you need to read for this week includes three reports from IPC detailing: the strength and risks in the global economic recovery; a strong EMS book-to-bill ratio; and strong North American PCB sales. Zeroing in on a single company, Apple reported a significant jump in revenue.
04/23/2021 | Andy Shaughnessy, I-Connect007
This week, we bring you a wide swath of news, columns, and articles from the past week. Altium announced a new cloud platform that connects design stakeholders with users of its Altium 365 environment. Cadence Design Systems has acquired a company that develops computational fluid dynamics technology to help expand its system analysis offerings.
04/16/2021 | Tara Dunn, Averatek
Looking back to my notes from IPC APEX 2020, I noticed one of my comments: There were so many interesting sessions that I often found myself in the position of choosing between several that I wanted to attend in the same timeslot. This year was not any different in that regard. I am purposely glossing over the fact that I, like many of my friends, missed the camaraderie and opportunity to catch up in person while attending these technical sessions, and I look forward to being able to do that next year.