Reading time ( words)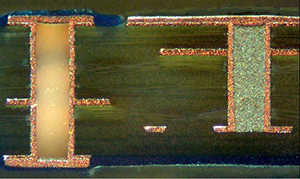 Mike Kalaria, president and CEO of Eagle Electronics of Schaumburg, Illinois, announced today that his company has made significant cycle time improvements in the via fill process.
Eagle Electronics has consistently made investment decisions and process improvements which help to reduce the overall cycle time. Eagle Electronics is now offering 3 day turns, for qualified prototype orders, which require via fill per IPC-4761 type VII. The demand for quick turn via-in-pad technology has grown exponentially over the past several years and Eagle Electronics is providing that which the market needs.
Commenting on this achievement Mr. Kalaria stated, "Our engineering team lead by Mr. Harshit Shah has made this possible by implementing the necessary process improvements in plating and imaging. This coupled with key equipment investments such has high speed drilling and digital imaging. These improvements have allowed us to reduce the cycle time by as much as 40% ".
Eagle's unwavering commitment to meet customer demand and provide the best total value in the industry is once again evident.
About Eagle Electronics, Inc
Since 1979, Eagle Electronics Inc. has provided our Customers with the highest quality Printed Circuit Boards at fair and competitive prices. From our modern 50,000 sq. ft. facility, we have been meeting and exceeding our Customer's ever-increasing expectations and requirements.
From providing our customers with short standard lead times to very low premiums on quick turns we strive to provide the best total value in high technology rapid turn-around PCBs in the industry.
Our Quality System has been ISO Certified since 1996. All our products, materials, and processes are UL Recognized. We are dedicated to a Continuous Improvement philosophy, in all facets of our business, to position ourselves to better serve our Customers. Simply put, Eagle Electronics, Inc. is committed to STRIVING FOR EXCELLENCE IN EVERYTHING WE SAY AND DO.
ITAR REGISTERED, ISO 9001:2015 Certified. For more information go to www.eagle-elec.com.
Share
Suggested Items
12/09/2022 | IPC Staff
If it isn't clear already, your money, time, and effort will be well spent attending IPC APEX EXPO in January. Here, we've outlined the top six reasons that this event will be the highlight of your year. We've done all we can to make the event not only memorable, but a show that allows you to connect with industry peers, learn how to enhance your skills, help advance the industry, and discover new insights on products and strategies from industry innovators.
12/09/2022 | Andy Shaughnessy, Design007 Magazine
We're into December, and the new year is around the corner. Things are looking pretty good for our industry. Trade show attendance is back up to pre-COVID levels, and a lot of companies are having banner years. Has the virtual trade show gone the way of the dodo bird? Let's hope! This week, our must-reads include articles and news items on the decline of R&D, STEM education for kids, why vias do not heat up, the need for more DFT, and the lack of movement toward intelligent data transfer. Designers just love their Gerbers, but Dana Korf has a few ideas about how to make Gerbers obsolete.
11/30/2022 | I-Connect007 Editorial Team
Jan Pedersen of NCAB Group is deeply involved in IPC standards development surrounding ultra HDI and keeps his finger on the pulse of the industry surrounding this type of fabrication. With Asia still dominating this area, Jan sees the need for U.S. and European PCB fabricators to make the investment if they want to stay competitive.