Reading time ( words)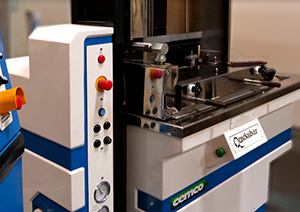 Sunstone Circuits, printed circuit board (PCB) solutions provider for prototypes, medium volume and production quantities, has recently added new 2020 state-of-the-art manufacturing equipment to its Oregon-based facility.
In order to continue to advance PCB manufacturing, Sunstone has been busy adding capabilities, capacity and tighter process control in 2020. In an ever-changing industry where the limits of physics are being pushed it is imperative to match manufacturing capabilities to the current customer requirements. By continuing to invest in its manufacturing operations, Sunstone can continue to supply customers with their desired products. Expanding capabilities and tightening process control windows generally comes in the form of newer and more capable equipment purchases.
The new 2020 installed equipment highlights:
New 2019 Cemco QuickSilver hot air solder leveler (HASL) installed to improve our product capabilities for customers who require tin-lead finish. "As strange as it may seem, there is still quite a market for actual leaded solder surface finish even though there are many directives that are leading away from it (RoHS, REACH, etc.). As the saying goes, "Nothing solders quite like (leaded) solder," said Nancy Viter, VP of Operations. Cemco was the obvious choice as a leader in vertical hot air solder leveling for over 25 years.


New 2020 Microcraft flying probe electrical tester recently installed to increase capacity in our quality assurance electrical test department and added capability for finer pitch designs. "Not only is this machine fast, it also gives us so much added capacity and capability, to help us maintain our 99%+ ontime delivery metric," said Mike Connella, Production Manager.


New 2019 German-made Lenz DRB 610 1+1, high-speed drill machine. The addition of this machine gives Sunstone added drill capacity with more total spindels, smaller drilled via capability, tighter true positional tolerance, as well as added controlled depth and other CNC machining capabilities.
"It is really exciting to see all of the recent equipment purchases come in and perform as we had planned. These new additions will help keep Sunstone marching ahead and providing high quality complex PCBs for year to come," said Matt Stevenson, VP of Sales and Marketing.
These are just a few of the ways that Sunstone is continuing to invest in its future. "We need to continuously improve our manufacturing operations to meet our customer's needs and stay up with their technology roadmaps," added Viter, "look for more updates in the near future!"
About Sunstone Circuits
Sunstone Circuits, a printed circuit board (PCB) manufacturer based in Oregon, has over 45 years of experience manufacturing high quality, on-time PCBs. Sunstone Circuits is committed to continuously improving the overall process for the design engineer from quote to delivery. With solutions ranging from prototypes to medium volume and production quantities, Sunstone has your entire product lifecycle covered. With around the clock US customer support, Sunstone Circuits provides unparalleled customer service. For more information about Sunstone's innovative PCB solutions, or to learn more about our custom quote or online quote and ordering process, please visit www.Sunstone.com.
Share
Suggested Items
11/28/2022 | I-Connect007 Editorial Team
The more we investigate UHDI in the current market, the more advanced packaging becomes a part of the conversation. Yet there are so many questions to be answered. The I-Connect007 Editorial Team met with Calumet's Todd Brassard and Meredith LaBeau recently to get answers to these questions and find out where the UHDI market is headed.
10/14/2022 | Nolan Johnson, I-Connect007
I've been in Washington, D.C., most of this week, attending and reporting on the IPC Advanced Packaging Symposium. You'll see more content from me in the weeks and months to come as I sort through and highlight the varied aspects of this ground-breaking event. If you're in this industry, advanced packaging will affect you, make no mistake about it.
10/07/2022 | Andy Shaughnessy, Design007 Magazine
It's been a busy week for I-Connect007. Managing Editor Nolan Johnson and I covered PCB West at the Santa Clara Convention Center, and, as you'll see in my article below the place was packed. We have an article about SMTA International, scheduled for the end of October. I think the trade show season is looking good into 2023. People are done with COVID shutdowns and ready to get back to live trade shows and conferences. We'll be in Minneapolis to bring you the latest news and technical information. We also have a news report about the European Union committing to craft its own version of America's CHIPS Act. There's a great interview with Dana Korf and John Strubbe about the latest innovations in materials at TUC. And columnist Paige Fiet explains why she is committed to making manufacturing "cool" again to help recruit and retain young technologists.