Reading time ( words)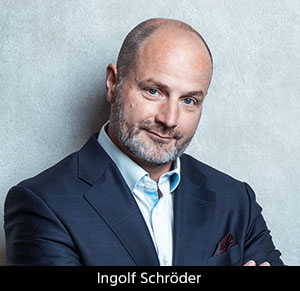 Former Osram manager Ingolf Schröder (48) will take over as the new COO of AT&S with effect from 1 September 2020. The previous COO, Heinz Moitzi, will concentrate on the further development of the R&D activities as CTO of the Austrian technology company in the future. At the same time, AT&S will take the next step in the implementation of its "More than AT&S" strategy and expand the Management Board by another mandate to four persons.
"With the appointment of Ingolf Schröder, we will strengthen our successful Management Board team technologically, and we will continue to consistently pursue our successful growth course with him," says Hannes Androsch, Chairman of the AT&S Supervisory Board. "I am delighted to have Ingolf Schröder on the Management Board, an expert who will contribute his vast experience in the areas of operations, quality and transformation," says AT&S CEO Andreas Gerstenmayer.
Ingolf Schröder (48) worked for Osram for 24 years, holding various different positions in the company. In his most recent role as Senior Vice President Operations & Quality, he was globally responsible for all operational processes at 23 locations across three business units and regions. As COO of the Business Unit Automotive, he was responsible for operational processes across business units; among other things, he made a significant contribution to the development and introduction of a new production system. In addition, he played a key role in the transformation of the traditional company into a networked and digitalised enterprise. As COO, Ingolf Schröder will be responsible for Operations, Quality, Global Supply Chain Management and EHS.
Ingolf Schröder studied at TU Berlin and holds a master's degree in Material Sciences. He is married, has five children and will relocate to Styria. The entire Management Board looks forward to a successful cooperation with the new colleague.
AT & S Austria Technologie & Systemtechnik Aktiengesellschaft
First choice for advanced applications AT&S is a leading manufacturers of high-end printed circuit boards and IC substrates. AT&S industrialises leading-edge technologies for its core business segments Mobile Devices & Substrates, Automotive, Industrial and Medical. AT&S has a global presence with production sites in Austria (Leoben, Fehring) and plants in India (Nanjangud), China (Shanghai, Chongqing) and South Korea (Ansan near Seoul). The company employed roughly 10,000 people in the financial year 2019/20. For further information please visit www.ats.net
Share
Suggested Items
12/27/2022 | Julia Gumminger, IPC
IPC members are constantly working to move the electronics industry forward by developing new technologies, innovative processes, and testing methods—and working to find solutions to known technical challenges. The IPC APEX EXPO Technical Conference is the premier forum in North America where these challenges, solutions, and innovations are shared among colleagues and competitors alike.
11/03/2022 | Christopher Bonsell, Chemcut
When it comes to obtaining high-quality images, many different factors come into play. Typically, most of these factors come down to your imaging equipment and cleanroom; however, there are factors involved in the etching process that can affect the quality of your image. Here are five steps to ensure your etching process is optimized for the best image quality.
04/19/2022 | Dan Beaulieu, D.B. Management Group
While there are many Chinese companies now selling in the United States, I wanted to find one in Taiwan that is penetrating the U.S. market. I was delighted to come across EISO Enterprise Co. Ltd., a printed circuit board fabricator located in Taiwan. I know that the American companies are usually looking for PCB global partners in countries other than China, which made my conversation with Gary (Jung Kun) Chien all the more interesting, especially when he shared his thoughts on the U.S-China trade wars.