Reading time ( words)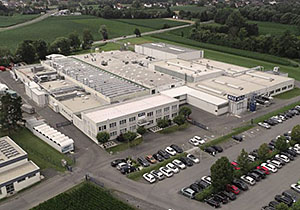 Due to the global weakness in demand in the automotive and industrial electronics sectors, which has been exacerbated by the COVID-19 pandemic, and the associated decline in orders for the AT&S plant in Fehring, the company has decided to take advantage of temporary short-time working as a stop-gap measure for the AT&S Fehring location, starting on July 1st. Due to the current situation in these industries, a sensible utilization of the production capacities cannot be maintained. The planning envisages the short-time working measures to be set for the next three months; if the currently very volatile situation has largely normalized by then, normal operation can then be resumed.
Of its 10,000 employees worldwide, AT&S currently employs 400 people at its Fehring location, 320 of whom are affected by short-time work. AT&S produces products for the automotive and industrial electronics industries in Fehring. Despite the current weakness in demand, both sectors are growth sectors due to trends such as e-mobility, autonomous driving, digitalization in industry, etc. The corresponding growth impulses can therefore be expected again after an economic recovery.
Share
Suggested Items
10/26/2022 | Pete Starkey, I-Connect007
For the past two years, EIPC's Technical Snapshot series has kept us extremely well-informed on developments in printed circuit materials and manufacturing technologies. But what is currently happening in the global PCB market, and how is Europe and the rest of the world affected by the current world situation? The 19th chapter (coincidentally on Oct. 19) in the series gave us a privileged opportunity to find out, as two leading industry analysts presented their observations and opinions in a webinar introduced and moderated by EIPC technical director Tarja Rapala-Virtanen.
06/24/2022 | Nolan Johnson, I-Connect007
Market news was certainly big this week. While the U.S. stock market continues make some large swings, the PCB and PCBA are doing their own dance with the numbers. We're still feeling the effects of the pandemic, but it seems to be more about playing catch up. Still, the industry is showing some instability, both in positive and negative ways.
05/12/2022 | Pete Starkey, I-Connect007
EIPC's 17th Technical Snapshot webinar on May 4 focused on developments in automotive electronics, particularly on advances in the technologies required to support the evolution of autonomous driving. The team brought together two expert speakers to present their detailed views on topics encompassed within "CASE," the acronym that appears to be taking over the automotive industry.