Reading time ( words)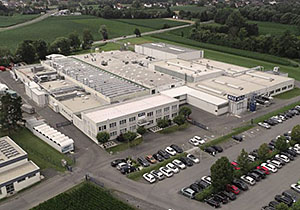 Due to the global weakness in demand in the automotive and industrial electronics sectors, which has been exacerbated by the COVID-19 pandemic, and the associated decline in orders for the AT&S plant in Fehring, the company has decided to take advantage of temporary short-time working as a stop-gap measure for the AT&S Fehring location, starting on July 1st. Due to the current situation in these industries, a sensible utilization of the production capacities cannot be maintained. The planning envisages the short-time working measures to be set for the next three months; if the currently very volatile situation has largely normalized by then, normal operation can then be resumed.
Of its 10,000 employees worldwide, AT&S currently employs 400 people at its Fehring location, 320 of whom are affected by short-time work. AT&S produces products for the automotive and industrial electronics industries in Fehring. Despite the current weakness in demand, both sectors are growth sectors due to trends such as e-mobility, autonomous driving, digitalization in industry, etc. The corresponding growth impulses can therefore be expected again after an economic recovery.
Share
Suggested Items
07/13/2023 | Nolan Johnson, I-Connect007
It's a given: Capital equipment, especially equipment that runs hard, will need service. The larger the installed base of equipment, the more service support that will be required. Burkle North America's Service Manager, Evan Howard, discusses how Schmoll's service organization has grown in response to equipment sales in the region, a conversation that touches on hiring, training, spare parts logistics, and potential future growth. It's clear that this company intends to keep its service team ahead of the curve.
04/25/2023 | Shawn DuBravac, IPC
At this year's EMS Summit held at IPC APEX EXPO, I shared IPC's economic outlook for 2023 and 2024. The electronics industry overcame significant hurdles and headwinds in 2022, thanks in large part to strong underlying demand. While many of those hurdles and headwinds have subsided, the industry faces new challenges in the year ahead. At the EMS Summit, I shared three key themes defining the year ahead.
10/26/2022 | Pete Starkey, I-Connect007
For the past two years, EIPC's Technical Snapshot series has kept us extremely well-informed on developments in printed circuit materials and manufacturing technologies. But what is currently happening in the global PCB market, and how is Europe and the rest of the world affected by the current world situation? The 19th chapter (coincidentally on Oct. 19) in the series gave us a privileged opportunity to find out, as two leading industry analysts presented their observations and opinions in a webinar introduced and moderated by EIPC technical director Tarja Rapala-Virtanen.