Reading time ( words)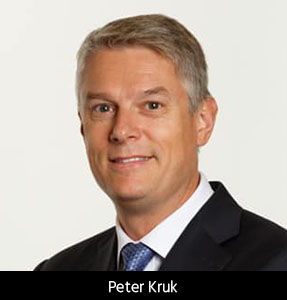 The Board of NCAB Group has appointed Peter Kruk as new CEO. Peter Kruk has a long experience as a leader in global industrial companies. He will be succeeding Hans Ståhl who announced in November 2019 that he planned to retire in 2020. Peter Kruk will assume his new role at the latest in the beginning of October 2020.
Hans Ståhl will remain as a Board member and will continue to be a large owner in NCAB. Peter Kruk is currently the President of the EMEA region in Dometic, where he is also part of the Group Management. Before that he served for nine years in different leading positions at Stoneridge Inc, an American supplier to the transport industry where he was also part of Group Management.
"After Hans Ståhl announced last year that he wished to retire in 2020 we have conducted a structured recruitment process. We have been looking for a leader with extensive international experience, preferably with background in sales and marketing in the industrial sector. We searched for a candidate who could continue to lead and develop NCAB according to the strategy and the business model that has been so successful for us. Peter Kruk has the background and experience that we looked for, and also the personality and the values that are so important for NCAB; Quality first, strong relationships and full responsibility. I look forward to Peter joining us," says Christian Salamon, Chairman of the Board of NCAB.
He continued, "Hans Ståhl will continue to play an important part in the future of NCAB as Board Member and large owner. Since he started in 2003, Hans has been leading NCAB during a long time of fantastic development. NCAB has changed from being a local Nordic trader with sales of 200 MSEK to a global, publicly listed, world leading supplier of PCBs with sales of 2 billion SEK and subsidiaries in 17 countries from China in the east to USA in the west. From the board, the shareholders and all our employees I would like to extend a warm and great thank you to Hans."
"I am happy to welcome Peter Kruk to NCAB and I feel both confidence and curiosity for his taking up this position. We have met each other in business earlier, and it makes me confident that our approaches are similar. NCAB has an exciting future with ample possibilities but also challenges in the wake of the Corona crises. I will fully remain in my role until Peter starts and then make sure that his introduction and the transition will be smooth. Thereafter I will leave the operating responsibilities but remain an engaged Board member and owner. I am very grateful for the years at NCAB. There is a fantastic team of people in all countries and in the board," said Hans Ståhl, present CEO of NCAB.
"NCAB is a very exciting global company with huge opportunities and I am very grateful for the board's confidence and trust in me. I am very much looking forward to starting my position and together with the organization continue the excellent development that NCAB has had during Hans' leadership," said Peter Kruk.
Share
Suggested Items
11/10/2022 | Nolan Johnson, I-Connect007
‌MKS/Atotech continues to develop and release digital solutions within the Atotech product portfolio. In this conversation Stefan Stefanescu and Nolan Johnson, they discuss the work MKS/Atotech is engaged in, the problems to be solved, how this work will improve customer operations.
07/22/2022 | Nolan Johnson, I-Connect007
It's always interesting how certain groups of news emerge in our most-read content. This week, reader interest seemed focused on two distinct themes: Mexico and awards. In this week's list, we find the inaugural award recipients from iNEMI's Project Leadership Awards. We also bring you the award recipients from the SEMI FlexTech conference held last week in San Francisco. News from Mexico includes a new Atotech facility, and an interview with IPC's David Hernandez and Lorena Villanueva about IPC's expanding presence in Mexico. Metcal's new hot air rework system also got a lot of attention, with an abundance of reader interest.
07/12/2022 | Dan Beaulieu, D.B. Management Group
In the business world, salespeople arguably were the most affected by the pandemic. These professionals had to be the most creative when trying to ply their trade. They had to work from home, make phone calls in lieu of face to face, and learn how to use social media networks and newsletters. This was all to reach their customers—who also were working from home. Even when they got vaccinated and managed to hit the road, they often found that their customers' doors were closed and they were not allowed inside, if their particular contact was there at all. Many times, they had to resort to meeting their customers in parking lots or restaurants with outdoor dining. And guess what? It's not even over yet. So, how does a salesperson create success when so much seems to have changed? I reached out to Lee Salazar of Prototron to learn how he met the challenges, and his tips for others who are moving forward.