Reading time ( words)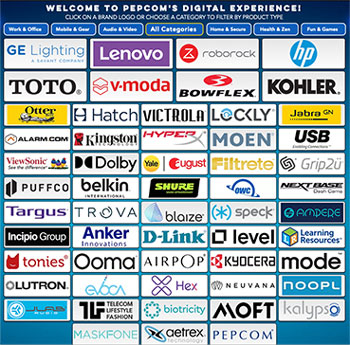 On Monday, January 11, I attended the launch of the CES 2021. Well, more precisely, I attended the Pepcom program, one of the multitude of ways to connect with CES in the virtual environment. Pepcom is a regular at CES, functioning a bit like a show-within-a-show.
From Pepcom's website, "Pepcom was founded in 1998—by journalists, for journalists. Pepcom is the proven leader in media showcases. Our demo events consistently put the world's most influential media in front of the world's most innovative companies—with a healthy dash of good fun as we go."
With a mission like theirs, it's no surprise then, that Pepcom is a regular at CES, drawing a mix of stalwart brands as well as up-and-comers. This year was no different. Top-tier brands included companies such as: Lenovo, Kyocera, Targus, Shure, Belkin, Moen, D-Link, Kingston, Dolby, ViewSonic, and many more.
Not every product could be strictly considered electronics, either. A handful of the showcase companies demonstrated accessory products; cell and tablet cases were a common non-electronic product.
Attending a real-life Pepcom follows through with the mini-tradeshow vibe, with showcased companies onsite showing off their products. While the virtual event is different than previous Pepcoms, for those of us who've been attending and reporting on virtual events, the visitor experience was exactly what we would have expected. Virtual Pepcom meant logging in to a rather traditional-looking virtual tradeshow environment. Once in, I navigated to each of the virtual booths.
At a trade show, every exhibitor is of interest to somebody, but not all exhibitors are interesting to everybody. Consequently, walking a show employs multiple layers of information gathering, processing and sorting to find the right type of interesting news to cover. Exhibitors tend to be grouped by industry; for example, when you find the automotive pavilion, mobility electronics suddenly immerses you. Scanning the signs on the towers or hanging from the ceiling to locate brands for an on-the-fly sorting of show participants is the normal way to navigate. Once you're in the same place as the products that interest you, simply walk the aisles and scan the booths. Each booth requires just a few seconds to see if their products are of interest.
However, a virtual showcase/exhibition environment isn't that easy to parse and doesn't go that quickly. A visit to a virtual booth goes only as quickly as the server can serve up the content that makes up the booth. To get a sense for the products, visitors must watch all (or most) of the introductory video—a two- to five-minute process. If there is interest after that, visitors can click into a live demonstration Q&A session, access the media collateral, and more. On the one hand, the message is more complete for the exhibitor—visitors all get the video messaging. But for the visitor, the process can be slower, sometimes even tedious. Until, of course, the interesting information is found!
Lenovo's Zoom-based demo session featured product sessions with new models of laptops and high-end displays.
Two different professional demonstrators had their hands on the products in real-time, reviewing the statistics and the features. Six or seven other press professionals were present, taking notes and paying attention. Over at Hex, the demonstrator was deep in a discussion on radio wave coverage with two other attendees. Hex's product is a home security device that interprets changes in Wi-Fi signal coverage to provide intruder security in your home; it was quite interesting to hear about how the sensors read the Wi-Fi signals as if it were a mesh.
Elsewhere, D-Link was showcasing networking products; computer/personal accessories manufacturer Targus had UV disinfecting desk lamps as a highlight; and Ooma, the VoIP phone company had a new 4G LTE "landline-like" phone product to show off. Kyocera was present, teasing the "coming soon" arrival of a new cellphone.
By the time I'd seen all of Pepcom, I'd been introduced to toys for children, personal vaping products, smart door locks for your home, microphones and headphone systems for mobility as well as work-from-home, Bluetooth-headset-enabled facemasks, biodegradable cases for phone and tablet, charger accessories from Belkin, dashcams, Bluetooth-connected personal safe boxes, and even an AI application software development platform from Blaise.
As of launch day at CES, and using Pepcom as a measure, the virtual experience is likely to severely hamper attendees' exposure to new and interesting technologies and products. We will continue to cover CES to the best of our ability this week.
Share
Suggested Items
03/21/2023 | Dan Beaulieu, D.B. Management Group
I have always felt that automation has the potential to make a big difference in our PCB industry, especially domestically, where labor is at premium. For the past year, I have been looking for the story of how automation can and will make a significant difference in established PCB shops. I was fortunate enough to find that story in Multicircuits, located in Oshkosh, Wisconsin. Only a few short years ago, this company was considered a "plain vanilla" PCB fabricator holding its own in our industry; now it has suddenly assumed a true leadership position in the industry in terms of capability, technology, operations, and profitability.
02/16/2023 | Dan Beaulieu, D.B. Management Group
Have you ever wanted to be part of something that matters? To work on a product that could actually change the world and make it a better place? My friend Pier Benci is working on such a product right now—the rTablet®, a software-defined radio that can reach every corner of the world and allow for greater communication. It was a delight to spend time hearing about his company, his new product, and their worldwide mission to reach all corners of the globe.
12/20/2022 | Nolan Johnson, I-Connect007
During a recent tour of the MKS facility in Beaverton, Oregon, I met with Todd Templeton, Chris Ryder, Kyle Baker, and Martin Orrick. As a reminder, MKS acquired ESI in 2019 and has retained the ESI brand. In this interview, they explain their approach to HDI and ultra HDI, the current state of base materials, and what the future looks like on the cutting edge of technology.