Reading time ( words)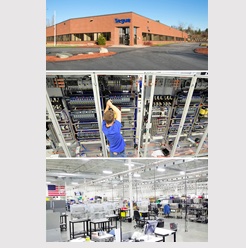 Segue Manufacturing Services, a global contract manufacturer specializing in complex electro-mechanical integration, cable and harness assembly and engineering services, has completed its expansion into new operations in Billerica, Massachusetts.
Segue's new Boston-area facility was custom-designed to optimize rapid New Product Introduction (NPI) and ramp-to-volume of its customers' complex electronic products in Medical, 3D Printing and Robotics, Industrial and Defense. Responding directly to the growing needs of its customer base, the expansion was integral to Segue meeting the accelerated production requirements of its customers' medical devices, in particular life-saving ventilators, during the 2020 global pandemic. The Billerica facility combines with Segue's facility in Xiamen to offer Segue's customers both Made-in-USA and China solutions.
The new 45,000 square foot manufacturing facility features an NPI Center with a team dedicated to optimizing the design and launch of its customers' new products. The Boston-area manufacturing center employs a team of 100 manufacturing and engineering experts, and features flexible manufacturing space for lean cell design and optimized product flow. The facility also has manufacturing cells for each of Segue's core services which include large, complex electro-mechanical integration, complex cable and wire harness design, overmolding and potting, and an in-house machine shop. Segue also has an option to annex and expand into adjacent manufacturing space.
The new Segue facility is located just north of Boston, Massachusetts, in the master-planned office/flex BT-37 Business Park, less than 2 miles from the I-495/Route 3 Interchange with ample parking and public transportation direct to the front door. The business park is home to technology companies like Segue Manufacturing, as well as companies specializing in business services and consumer products.
"As global supply chain and cost pressures mount, and regulatory requirements continue to evolve and tighten – particularly in the Medical space – our customers count on Segue for expert execution and a model that flexes to provide solutions that work in this real world of constraints," said Roger White, CEO of Segue Manufacturing Services. "Segue is purpose-built to provide our customers with a proactive team of manufacturing and engineering professionals plus a fully integrated service offering, so our customers get maximum flexibility, quality and supply chain continuity. Expanding and investing in our North American operations is an essential part of our strategy."
Share
Print
Suggested Items
04/21/2021 | Sagi Reuven and Zac Elliott, Siemens Digital Industries Software
Companies have been collecting data in large volumes. Highly varied data from manufacturing operations comes in quickly that needs to be validated, and its value prioritized so that it can be turned into something useful—transformed from big data to smart data. The amount of data available has grown exponentially into big data. Twenty years ago, a PCB work order resulted in 100 data records, megabytes of data; today, it is 10 billion records, terabytes of data. The investment in collecting this data and storing it is high. However, without a way to analyze the data, without analytics, it will not result in ROI.
04/07/2021 | Sagi Reuven and Zac Elliott, Siemens Digital Industries Software
Whenever we discuss data, keep in mind that people have been collecting data, verifying it, and translating it into reports for a long time. And if data is collected and processes are changed automatically, people still will be interpreting and verifying the accuracy of the data, creating reports, making recommendations, solving problems, tweaking, improving, and innovating. Whatever data collection system is used, any effort to digitalize needs to engage and empower the production team at the factory. Their role is to attend to the manufacturing process but also to act as the front line of communications and control.
04/05/2021 | Timothy McLean, TXM Lean Solutions
Building a competitive and reliable supply chain is a critical success factor for any manufacturing business. This is especially true today, where we face constant volatility and disruption across global supply chains. In this environment, effective supply chain leadership is more critical than ever. So, what makes a great supply chain manager?