Reading time ( words)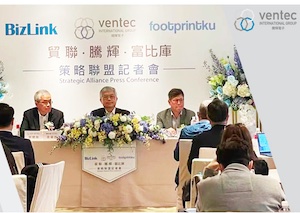 Ventec is pleased to announce that it has entered into a global strategic alliance with leading interconnect solutions provider, BizLink Holding Inc., and Footprintku Inc., an online EDA library and digital transformation services provider for electronic components. This alliance is formed to provide a solution that boosts product development process efficiency and shortens development and time-to-market.
BizLink has long been a supplier of key components to the IT industry, including connectors and cables. The company is experienced in new product introduction (NPI) as well as in system integration, manufacturing, and in assembly.
BizLink's Chairman, Roger Liang, said, "For the design of electronic products, the trend is for thinner, lighter, and aesthetically pleasing products whilst maintaining functionality and compatibility. This has prompted the demand for rapid and frequent updates of components and product styles. The ability to quickly develop products to respond to market changes has become the key to success."
Ventec International's Chairman, Tony Lau, pointed out, "What the market needs is a platform that integrates the advantages of upstream components, mid-section design, and back-end manufacturing. The creation of such a platform, we knew, would greatly help accelerate industrial innovation." Footprintku Inc.'s Chairman, YC Hwang, continued, "In response, we propose a cloud platform using the exclusive AI and digital transformation technology of Footprintku.com to integrate the resources of all three companies. The result is a one-stop service, making it possible for product developers to quickly and efficiently find the best components and quality suppliers for their product R&D and design change stages."
This alliance is built upon Footprintku's cloud database for electronic components as well as BizLink's solutions and Ventec International's materials. It integrates the capabilities of new product introduction (NPI), design services (ODM), and manufacturing assembly (EMS). This alliance will reduce the cost of and time in searching for electronic components for product developers. Furthermore, it will accelerate product evolution and facilitate industrial innovation by connecting highly flexible and customized electronic industry supply chain partners.
The alliance was officially announced at a press conference held at the Grand Hyatt Taipei on February 26, 2021.
Share
Print
Suggested Items
04/15/2021 | Chris Mitchell, IPC VP, Global Government Relations
IPC APEX EXPO 2021, which went all virtual this year, exemplified how the electronics industry has responded to the COVID-19 global pandemic: with resiliency, agility, and an unwavering commitment to build electronics better. APEX EXPO featured great content and robust discussions on topics of critical importance to the global electronics industry. From my vantage point leading IPC's government relations programs, here are my top five takeaways from this year's event.
04/14/2021 | Pete Starkey, I-Connect007
What a week that was! I didn't get to endure the 11-hour flight each way, neither did I need my comfy old shoes, but it certainly was a marathon event. And real-time-plus-six-hours gave me a few late nights, but it was such a meaningful experience, and well worth the effort!
04/01/2021 | Marc Carter, Aeromarc
With the wrap-up of IPC APEX EXPO 2021, it was extremely gratifying to note the emphasis placed on getting young people involved to combat the "graying out" knowledge losses facing our industry. A part of that emphasis was reflected in the award ceremony on Tuesday, March 9, which featured some people you may have seen mentioned in my "Better to Light a Candle" columns.