Reading time ( words)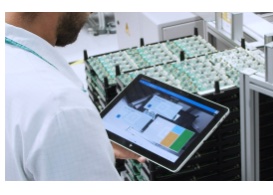 Critical Manufacturing has once again received the highest scores in three out of four use cases in 2021 Gartner Critical Capabilities for Manufacturing Execution Systems. The report mentions the specific use cases that manufacturers should consider when evaluating MES solutions, based on the manufacturing styles prevalent in their sites.
The Critical Manufacturing MES received the highest score of the 19 vendor products included in the research against the 'Batch/Repetitive Flow' use cases. It also rates highest in the 'Complex Discrete' and 'Highly Regulated Manufacturing' use cases. This recognition comes only weeks after Gartner placed Critical Manufacturing as a Leader in the 2021 Magic Quadrant for Manufacturing Execution Systems for its Completeness of Vision and its Ability to Execute.
Francisco Almada Lobo, CEO of Critical Manufacturing said "I believe our high scores are the result of our strategy to develop the most modern MES that will evolve and scale with the needs of our customers, anticipating where digital transformation can take them in the future. Our MES is designed to adapt to a wide range of complex processes and to enable easy standardization across multiple manufacturing sites. The diverse processes it handles requires it to be flexible, highly configurable and robust, especially in highly regulated markets. It provides a cohesive solution that can easily evolve with changing business needs."
Manufacturers evaluating MES are concerned with the technologies that will enable their full smart manufacturing vision for the future. Critical Manufacturing was ahead of the market with its recent MES V8 release which incorporates a new manufacturing based IoT Data Platform. Highly scalable, it can integrate new and legacy equipment and ingest and process data from multiple data sources that, when combined with MES contextual data, enables manufacturers to reveal new data insights to improve business outcomes. In addition, a new Factory Automation module allows manufacturers to progressively increase their levels of automation all the way to 'lights out' smart factories.
Critical Manufacturing's MES, domain expertise and experience is concentrated in industries with highly complex processes and regulated environments such as medical device, SMT/electronics and semiconductor manufacturers. Medical Device companies with multiple plants need the flexibility and configurability to handle a wide set of diverse processes, yet capitalize on the commonalities to drive towards predictive quality. Many SMT and electronics manufacturers are pursuing digitalization to increase equipment connectivity, increase automation and replace multiple disconnected applications, that cannot scale across lines and factories, with a holistic, enterprise wide view of operations. Semiconductor manufacturers are dealing with rapidly increasing process complexity and need a modern MES that can handle very specific advanced scenarios to remain competitive.
Lobo concluded: "Plant floor systems are evolving and Critical Manufacturing understands that the boundries between MES, IOT and Automation are blurring. Our high-tech customers are focused on digitalization and, while MES is one of the main pillars to support this, they are driving our expansion into new areas of functionality and our adoption of new, disruptive technologies to merge execution, automation and advanced analytics. Our MES platform also allows for easy deployment in any environment using containers, including on-premises, in the cloud, or in a hybrid mode. Our vision and innovation is continuously driving interest in our solution".
Share
Suggested Items
03/22/2023 | I-Connect007
Episode 3, "Connectivity Using CFX and HERMES" from the new micro webinar series 'Smarter Manufacturing Enabled with Inspection Data' is available now.
03/20/2023 | Nolan Johnson, I-Connect007
When Canadian artificial intelligence company Darwin AI was founded in 2017, machine learning and deep learning were still relatively new terms. In the past five years, CEO Sheldon Fernandez and his team have been working with this technology to develop some foundational IP to simplify implementation. About a year ago, Sheldon took a "part happenstance, part deliberate" opportunity to develop a vertical offering for EMS manufacturing. Here's what happened.
03/15/2023 | Mark Laing, Siemens Digital Industries Software
We recently heard President Biden's State of the Union address, and it got me thinking that perhaps now is a good time to look at our own post-pandemic "state of the union" in the electronics manufacturing services industry. I will describe several key issues that our customers around the world are facing as we move forward into a new normal.