Reading time ( words)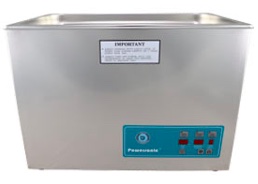 Whizz Systems, Inc., the award-winning premier provider of electronics product design, development, and manufacturing services located in the heart of the Silicon Valley, today announced the addition of a Powersonic™ Benchtop Ultrasonic Cleaner from Crest Ultrasonics.
Crest Ultrasonics' patented ceramically enhanced transducers provide greater cleaning power and reliability, when compared to conventional wafer-type transducers — and they have transferred that high performance technology to the PowersonicTM line of benchtop ultrasonic cleaners.
This tabletop unit ensures uniform cleaning throughout the tank by sweeping the ultrasonic frequency 3 kHz, which creates overlapping ultrasonic waves. This approach eliminates inconsistent cleaning due to hot spots (areas of intense ultrasonic activity) in the cleaning solution, which is caused by the unvarying or "standing" waves produced by conventional ultrasonic power supplies.
Over the last 20 years, Whizz Systems has invested in its engineers with the best technologies and practices to provide the best service and products in the industry. With in-house world-class manufacturing, the company prides itself in being equipped to successfully design, develop and manufacture the products that its customers need in today's rapidly advancing market.
Whether a client has a single need or requires the entire suite of product design and development, Whizz Systems is a partner and an extension of its clients' resources at any and every step along the journey.
Share
Suggested Items
08/23/2023 | Óscar Martins, Critical Manufacturing
It's time to make the ideal of digital transformation a reality. Everyone seems to agree that is the path to manufacturing business success. Yet, not everyone knows how to proceed toward this digital future right now. Hint: Combine the new Industry 4.0 technologies such as digital twin and augmented reality (AR) with up-to-date versions of proven software systems, particularly manufacturing execution systems (MES). Or better yet, find systems that inherently do that for you. Then create ways to ensure these digital and virtual systems reflect and fully support your physical and real operations.
06/08/2023 | Barry Matties, I-Connect007
As the definition of sustainably evolves in the industry, one thing is clear: Process control plays a large role in any definition. Creating a stable process reduces the potential overuse of cleaning materials and increases yields, thereby reducing scrap, and helping the sustainability effort. I recently talked with Tom Forsythe, executive vice president of KYZEN, about the cleaning process and automated bath control.
05/08/2023 | Business Wire
OSI Systems, Inc. announced that its Security division received an order for approximately $9 million from an international aviation customer to supply a range of inspection equipment platforms.