Reading time ( words)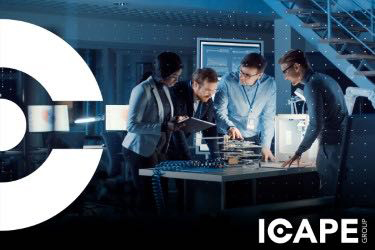 ICAPE Group unveils its new visual identity. A more precise, more dynamic, and clearly electronic-oriented logo accompanies the spectacular development of the company which is entering a new era in its history.
As a major player in BtoB electronics for over 20 years, the quality of the services and products provided by ICAPE Group is well established. The supplier of customized printed circuit boards and technical parts has won the trust of more than 3,000 active customers and achieved in 2021 unprecedented growth of +35% over the year, with 170 million euros in revenue.
More than ever, ICAPE Group is setting its course for the future and for the transformations that will allow it to develop more widely and more effectively in an extremely competitive market. Since its creation, ICAPE Group has demonstrated both a great capacity for innovation and adaptation, while relying on solid principles which ensure its unfailing stability. The global economic context and the group's recent results are indisputable proof of this.
Since its creation, ICAPE Group has always been accompanied by the color blue, which inspires escape and serenity. This color that unites the sky and the sea on the horizon, and sets the course for the long term. It goes from a shade of sky and navy to a more committed, more dynamic, more electric tone, in line with the high-tech activities of the group. Until now, the ICAPE Group logo was a blue planet and this sphere is found symbolized inside the «C» of the word ICAPE, thus forming a printed circuit board pad, its core business. This C represents the values and the main objectives of the company: commitment to its customers, the challenge of competition, and creativity to find the best solutions. Values present in the world of sport and technology, both of which demand the highest level of performance and precision.
The power of precision, here is the new motto of ICAPE Group. Words in the strong sense, which announce a desire to deploy all the energies of the group in the most targeted way possible. The arsenal of services developed by ICAPE Group aims to provide a local, rapid, efficient and competitive response to all of its customers' needs, regardless of the volume of business. In an industry where approximation has no place, precision is the most essential quality criterion. This new identity does not fundamentally change the way ICAPE Group operates, but it reflects a new motivation and affirms a state of mind resolutely turned towards its customers and the future.
Share
Suggested Items
08/24/2022 | Andy Shaughnessy, Design007 Magazine
The cost of everything is on the way up, and fabricators are feeling the squeeze. They may hesitate to raise their prices because they don't want to scare off business, but what options do they have? We asked James Hofer, general manager of Accurate Circuit Engineering, to weigh in with his thoughts on this conundrum.
07/12/2022 | Dan Beaulieu, D.B. Management Group
In the business world, salespeople arguably were the most affected by the pandemic. These professionals had to be the most creative when trying to ply their trade. They had to work from home, make phone calls in lieu of face to face, and learn how to use social media networks and newsletters. This was all to reach their customers—who also were working from home. Even when they got vaccinated and managed to hit the road, they often found that their customers' doors were closed and they were not allowed inside, if their particular contact was there at all. Many times, they had to resort to meeting their customers in parking lots or restaurants with outdoor dining. And guess what? It's not even over yet. So, how does a salesperson create success when so much seems to have changed? I reached out to Lee Salazar of Prototron to learn how he met the challenges, and his tips for others who are moving forward.
06/14/2022 | Andy Shaughnessy, I-Connect007
Jeff De Serrano, president of PCB Technologies USA, discusses the launch of their new company, iNPACK, which focuses on high-tech substrate technologies, microelectronics assembly, and electronics packaging. He details his plans to continue expanding InPack over the next year and to meet with customers and exhibit at the International Microwave Symposium Show in Denver June 19-24.