Reading time ( words)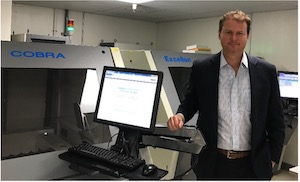 Cirexx International has acquired and installed a fifth Excellon Cobra laser machine. The hybrid Laser and is equipped with both CO2 and UV laser technology. It is designed to "drill" holes, "rout" profiles and micro-machine fine features in printed circuit boards and specifically flex circuits. The machine comes with the upgraded controller, latest software, High Speed Intelligent Scanners and variable power high pulse energy lasers.
Mike Sparidaens of Excellon said, "Cirexx is realizing the benefits from the enhanced technology of this next generation Cobra-II laser. As our product evolves, we look forward to continue being part of Cirexx's technology roadmap for many years to come."
Philipp Menges, Cirexx President/CEO commented, "We began using the COBRA lasers to make fine and very accurate features in flex circuits, but we are using them more and more these days to make micro vias in HDI boards. The quality and reliability of Excellon machines means to me that they will be running like workhorses without downtime. Add the outstanding Excellon service that we receive from Mike and his team, and we have a true win-win."
Share
Suggested Items
08/31/2022 | Andy Shaughnessy, I-Connect007
After the initial impact of the global pandemic led to a somewhat flat 2020, Carey Burkett, vice president of Flexible Circuit Technologies, explains how the company's growth took off in 2021, positioning it well for industry trends that continue to show great promise in medical, automotive, consumer, and more. In this interview, Carey breaks down the reasons behind the company's recent success and how R&D, and a new Zhuhai facility, have positioned them for continued growth.
07/21/2022 | Cody Stetzel, Cadence Design Systems
I have the tendency to try to replicate the delicacies I've ordered at restaurants in my own kitchen. One of my latest attempts at creating restaurant-worthy dishes was a Korean pancake that's crispy on the outside but soft on the inside. With my amateur cooking skills, it proved to be an impossible task—I could either make only a hard pancake or one that was total fluff. While I'm still struggling to figure out the trick to bringing together the different textures of a Korean pancake, I've had more success in bringing together the hardboard elements and flexible PCB elements of a rigid-flex PCB. Compared to making Korean pancakes, striking the right balance of flexibility and rigidity on a rigid-flex PCB is easy if you abide by rigid-flex PCB design guidelines.
07/13/2022 | Nolan Johnson, I-Connect007
Key presentations from companies like Boeing highlight FLEX Conference and Exhibition 2022, held in concert with the annual SEMICON West show this week in San Francisco's Moscone Center. SEMICON West claims to be "North America's premier microelectronics exhibition and conference," uniting players across the entire electronics manufacturing and design supply chain.