Reading time ( words)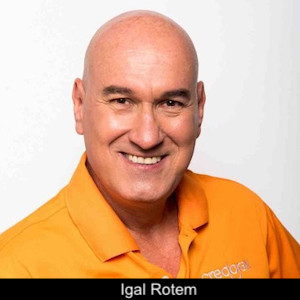 Nano Dimension Ltd, an industry leader in Printing Technologies, Additively Manufactured Electronics (AME), Printed Electronics (PE), and Micro Additive Manufacturing (Micro-AM) announced the appointment of Mr. Igal Rotem to the Board of Directors of the Company (the "Board"), effective immediately. Mr. Rotem will replace Dr. Eli David, who resigned from the Board, but will continue to serve as the Chief Technology Officer of the Company, leading the Company's Artificial Intelligence, Deep Learning and Machine Learning technologies.
Since 2010, Mr. Rotem has served as the Chairman and later as the Chief Executive Officer of Finaro Bank (formerly known as Credorax), a principal member of Visa and MasterCard Europe, and a licensed bank. Finaro offers a unified digital automated and interactive Acquiring and Payment Processing solution to E-commerce and M-commerce merchants and Payment Service Providers (PSPs). Over the past few years, as a CEO, Mr. Rotem has led the company to profitability and steady growth of 40% year-over-year, making Finaro one of the fastest-growing members of Visa and MasterCard in the world.
Mr. Rotem is also the former Founder and Chief Executive Officer of PowerDsine, which invented and sold Power over Ethernet (PoE) technology chipsets and solutions. Mr. Rotem increased PowerDsine's international customer base, including HP Inc., 3Com Corporation, CISCO Systems (Nasdaq: CSCO), and others. He then initiated and executed the initial public offering of PowerDsine on Nasdaq and the acquisition of PowerDsine three years later by Microsemi Corporation (Nasdaq: MSCC).
Mr. Rotem was also the General Manager of Butterfly Communication, which was the leader in developing short-distance wireless communication which later became known as Bluetooth technology. The company was one of the world's pioneers in providing Bluetooth semiconductors solutions to early market adopters and was acquired by Texas Instruments.
Mr. Rotem has an MBA in Technology Management, Industrial Management Marketing and Finance from Tel Aviv University, and a B.Sc. in Electrical Engineering from Tel Aviv University. He was awarded the Ernst & Young 2004 Entrepreneur of the Year.
Mr. Yoav Stern, Nano Dimension's Chairman and Chief Executive Officer, commented, "Igal is a unique entrepreneur with a multi-disciplinary background, spanning from advanced electronics technologies to fintec and transactional software and hardware. He is a highly experienced executive and serial entrepreneur with extensive business development, sales management, and strategic business planning skills. He successfully spearheaded companies through entire lifecycle stages: start-up, accelerated growth, turnaround, initial public offering on Nasdaq, joint venture, and M&A. Igal is who we need to enhance Nano Dimension's Board knowledge and support for our unique development pattern. I am convinced that Igal will add substantial value to our board and our management."
Mr. Stern added, "We thank Dr. Eli David for his tenure on our Board. Eli is continuing with his important work in the Company, leading the highly intensive projects of implementing Artificial Intelligence, Deep Learning and Machine Learning technologies into our various 3D-Printing Systems to improve yield and throughput as we advance toward machines for manufacturing of 3D parts."
Share
Suggested Items
09/28/2022 | Dan Beaulieu, D.B. Management Group
It's always good to catch up with old friends, especially when you can start working together. I recently spoke with my friend John Johnson, who has joined American Standard Circuits as the director of business development. At ASC, John will be using the Averatek A-SAP process that he was previously involved with. He shares some of his background and provides insight on the best ways to use this semi-additive PCB fabrication process that opens the capability window for forming trace and space.
06/28/2022 | Pete Starkey, I-Connect007
At last, a live EIPC conference and this time in the Swedish city of Örebro, "where history and contemporary culture converge," a pleasant and convenient location for an event that included a privileged visit to the Ericsson facility in Kumla. Around 100 delegates made the journey and the Örebro Scandic Grand Hotel was an excellent conference venue for the June 14-15 conference.
06/21/2022 | I-Connect007 Editorial Team
We asked columnist Michael Carano to discuss the latest innovations in plating equipment and chemicals, as well as some of the drivers in this segment, and the biggest challenges and opportunities he sees in plating today. As Michael points out, despite all of the technological advances in this industry, process engineers still need a solid understanding of Faraday's Law and Ohm's Law to successfully plate PCBs.