Reading time ( words)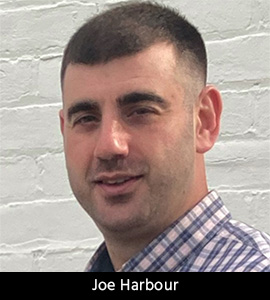 Insulectro, the largest distributor of materials for use in manufacture of printed circuit boards and printed electronics, has hired industry veteran Joe Harbour as Director of Operations, East & Midwest Regions.
"I am pleased to announce a new teammate to our Insulectro Operations team, Joe Harbour," announced Ken Parent, Insulectro Chief Operating Officer, "Joe comes to us with an extensive and diverse background in the design, development, implementation, and management of world class operations. He is experienced and skilled in driving LEAN operational culture, focused on Safety, Quality, and Service. He will report to Jason Shuppert, VP Operations & Supply Chain."
Harbour has over 15 years of operational experience, having spent the first 6 years of his career in the U.S. Air Force, as a Command Control Leader and Project Manager. Here Harbour achieved the highest ratings for conducting specialized and advanced training for military personnel. Joe has spent the last eight years with the TJX Companies, Inc. (TJ Maxx, Home Goods, Marshalls) where most recently he held the position of Regional Operations/Loss Prevention Manager. In this role he provided executive-level operational leadership in the Eastern U.S. for five, 1 million+ square feet distribution and fulfillment centers. Joe is the recipient of the 2022 "World Class Winner Award" by TJX Inc., for his leadership in implementing a standard DC staffing model that supported a transition to 24/7 operations and for championing efforts to promote a safe work environment with focus on incident de-escalation and workplace safety awareness and compliance.
"I'm very excited to have Joe Harbour joining our Puma Family, spearheading operational oversight in the East & Midwest Regions" stated Vice President of Operations Jason Shuppert. "Joe will bring much needed knowledge and insight in the areas of Safety, Quality, and Service best practices, to drive our World Class Manufacturing culture and our overall operating results forward."
Ken Parent concluded, "Joe is a wonderful talent to add to our bench of superstars and will have an immediate impact helping us accelerate our WCM focus on People, Quality, Service, and Asset Care. Insulectro certainly continues to grow and expand to help our customers build better circuits, faster."
Insulectro supplies advanced engineered materials manufactured by Isola, DuPont®, LCOA®, CAC, Inc., Pacothane, Focus Tech, JX Nippon, TADCO, EMD Performance Materials (Ormet®), Shikoku, Denkai America, Industrial Brush Corporation, Kemmer, InduBond®, and Shur-loc. These products are used by its customers to fabricate complex, multilayer circuit boards and to manufacture printed electronics components. Insulectro serves a broad customer base manufacturing rigid, rigid/flex, and flexible circuit boards for applications in a variety of end markets including aeronautics, telecom, data communications, high speed computing, mobile devices, military, and medical. Insulectro combines its premier product offering with local inventory across North America, fabrication capabilities and backed up by expert customer and technical support services.
Share
Suggested Items
04/19/2022 | Dan Beaulieu, D.B. Management Group
While there are many Chinese companies now selling in the United States, I wanted to find one in Taiwan that is penetrating the U.S. market. I was delighted to come across EISO Enterprise Co. Ltd., a printed circuit board fabricator located in Taiwan. I know that the American companies are usually looking for PCB global partners in countries other than China, which made my conversation with Gary (Jung Kun) Chien all the more interesting, especially when he shared his thoughts on the U.S-China trade wars.
02/24/2021 | Patrick Valentine, UYEMURA USA
The concern for quality control and reduced product variation can be traced back centuries. Archaic quality control methods were used by the Xia Dynasty in 2100 BC in ancient China. During the late 1290s in medieval Europe, guilds—the pre-cursor to unions—were responsible for product and service quality. From 1700 to 1900, product quality was determined by the individual craftsman's efforts. At the close of the 19th century, Eli Whitney introduced standardized, interchangeable parts to simplify assembly.
11/25/2020 | Dan Beaulieu, D.B. Management Group
Founded in 2007, QCMS is one of the more interesting EMS companies on the East Coast. They are actually a sister company to Niche Electronics located in Pennsylvania. Dan Beaulieu interviews QCMS General Manager Rick McAnally.