Reading time ( words)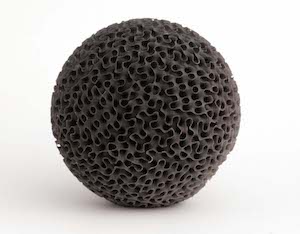 Rogers Corporation has announced that Technical Marketing Manager John Coonrod will give three presentations on June 21 in the MicroApps Theater at the International Microwave Symposium (IMS) in Denver. His topics will include "Radix 3D Printable Dielectrics & Lens Demonstrator," "An Overview of Copper Foil: How It's Made, Roughness Effects & RF/ HSD Influences," and "How to Get Consistent Millimeter-Wave Performance Using Grounded Coplanar Waveguide."
In addition, Rogers will be showcasing its most recently released products in Booth #2030 during IMS, the world's largest RF and Microwave show, which takes place from Tuesday, June 21 to Thursday, June 23. These products include Radix™ 3D Printable Dielectrics and RO4835IND™ LoPro® Laminates.
Radix™ 3D Printable Dielectric, is the first 3D material featuring a dielectric constant of 2.8 and low loss characteristics at microwave frequencies. These printable dielectric materials give radio frequency (RF) designers unprecedented design freedom in creating new components, eliminating the need to consider typical manufacturing design constraints.
Rogers Corporation's Radix3D Printable Dielectric is a proprietary composite material designed for Digital Light Processing (DLP) 3D printing, enabling a scalable, high-resolution printing process for end-use RF dielectric component manufacturing. This printable dielectric material has a targeted dielectric constant of 2.8 and a dissipation factor of 0.0043 at 10 GHz when cured.
The new material is intended for use as RF material in applications where new geometric freedom can enhance the figure of merits of an RF system, such as gradient dielectric constant (GRIN) structures and other complex three-dimensional parts. The Radix 3D Printable Dielectric offers the industry a way to manufacture systems and components at scale that could not be made with traditional fabrication methods. Radix materials are available directly from Rogers Corporation and our 3D printing partners.
RO4835IND LoPro thermoset laminates are specially designed for 60-81 GHz short-range industrial radar applications, where excellent electrical performance and cost-efficiency are equally important. These laminates also provide environmental reliability and interconnection stability, which are critical criteria for PCB material selection.
With a low insertion loss of 2.13dB/inch at 60 GHz, these laminates meet customers' critical radar coverage requirements. The expanded weave fiber provides excellent Dk uniformity, and Rogers' tight quality control provides low Dk variation from lot to lot. RO4835IND LoPro laminates are compatible with standard epoxy/glass (FR-4) processes and have a higher fabrication yield rate compared to conventional PTFE-based laminates. Low material and fabrication costs make RO4835IND LoPro laminates a cost-effective solution for industrial radar.
To learn more about Radix 3D Printable Dielectrics, visit Rogers' youtube channel, https://www.youtube.com/c/RogersCorpACS
About Rogers Corporation
Rogers Corporation (NYSE:ROG) is a global leader in engineered materials to power, protect and connect our world. Rogers delivers innovative solutions to help our customers solve their toughest material challenges. Rogers' advanced electronic and elastomeric materials are used in applications for EV/HEV, automotive safety and radar systems, mobile devices, renewable energy, wireless infrastructure, energy-efficient motor drives, industrial equipment and more. Headquartered in Chandler, Arizona, Rogers operates manufacturing facilities in the United States, Asia and Europe, with sales offices worldwide.
Share
Suggested Items
07/07/2022 | Denis Jacques, Technic Inc.
About three decades ago, immersion silver, a nitrate-based process, gained a lot of market share in the world of PCB final finishes. More economical than ENIG, flat, solderable, and conductive, it had everything going for it—everything but corrosion resistance in a harsh environment, that is. Champagne voids were also an issue, along with line reduction. But the worst drawback, the characteristic that made the part short over time, was creep corrosion. A build-up of copper sulfide salt that grows in contact with a sulfur-rich environment, heat, and moisture resulted in failures in the field. This was enough to scar the process for good.
06/29/2022 | Pete Starkey, I-Connect007
Örebro, Sweden on June 15 brought a bright and early start to Day 2 of the EIPC Summer Conference for those who had enjoyed the previous evening's networking dinner, but had resisted the temptation to over-indulge or to carry on their long-awaited catch-up conversations with old friends into the small hours. All but a few were in their seats for 9 a.m., awake and attentive for Session 4 of the conference, on the theme of new process technologies, moderated by Martyn Gaudion, CEO of Polar Instruments.
06/28/2022 | Pete Starkey, I-Connect007
At last, a live EIPC conference and this time in the Swedish city of Örebro, "where history and contemporary culture converge," a pleasant and convenient location for an event that included a privileged visit to the Ericsson facility in Kumla. Around 100 delegates made the journey and the Örebro Scandic Grand Hotel was an excellent conference venue for the June 14-15 conference.