Reading time ( words)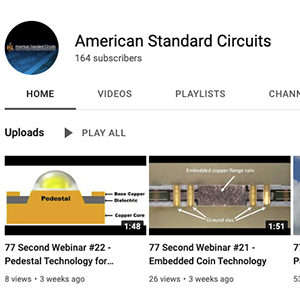 American Standard Circuits has launched an ongoing bite size series 77 Second Webinars and other educational videos on YouTube, featuring pertinent PCB topics like controlled impedance, buried resisters, and flex technologies as well as series focused on RF and thermal products.
The purpose of these videos is to educate and inform those interested in learning more about various technologies of the PCB industry. They are especially effective for PCB buyers and those who are entering the market for the first time.
President and CEO Anaya Vardya commented, "We have always felt that it is our duty to pass on the knowledge and experience our accomplished team has gained over the years with the rest of the industry. A few years ago, we launched a complete educational program that includes downloadable e-books, our Wednesday Webinars, a monthly column with I-Connect007 and now our series of educational videos on YouTube. We are dedicated to an industry that has been very good to our team. This is our way of giving back."
Some of the subjects we are covering:
RF Thermal Management
Embedded Capacitance
Cavity Construction
Via Fill
Flexible Solder Mask
The Kitchen Sink Board
Be sure to check out these topics and more on the ASC YouTube channel (search American Standard Circuits) and visit our website to learn more about Wednesday Webinars.
Be sure to visit I-007eBooks to download your copies of American Standard Circuits' books:
The Printed Circuit Designer's Guide to…Fundamentals of RF/ Microwave PCBs
The Printed Circuit Designer's Guide to... Flex and Rigid-Flex Fundamentals
The Printed Circuit Designer's Guide to…Thermal Management: A Fabricators Perspective
About American Standard Circuits
American Standard Circuits (ASC) prides itself on being a total solutions provider, manufacturing quality rigid, metal-backed, RF/microwave, flex, and rigid-flex PCBs for the medical, automotive, industrial, defense, and aerospace markets in volumes from test and prototypes to large production orders. ASC has the expertise to provide a wide variety of technologies in a time-critical environment. Their qualifications include AS9100 Rev D, ISO 9001:2015, MIL-PRF 31032, MIL-PRF-55110, MIL-PRF-50884 certification and ITAR registration. In addition to manufacturing in the USA, ASC can transition and manage your PCB requirements to lower cost regions via its qualified supply chain of offshore partners. ASC also holds many key patents for metal bonding processes. For more information about American Standard Circuits' services or to ask one of their technology experts a question go to www.asc-i.com.
Share
Suggested Items
05/19/2023 | Nolan Johnson, I-Connect007
This week, our must-reads include reporting on the new PCB support legislation, now submitted to the U.S. House of Representatives; financial results from two Tier 1 manufacturers, which readers read quite thoroughly; ESG in Asia Pacific; new features from Altium; global sourcing; and a "How I got here" interview with an up and coming industry expert.
04/21/2023 | Nolan Johnson, I-Connect007
SpaceX is back in the news and in a big, powerful, let's-blow-up-a-rocket-because-we-can kind of way. The company had scheduled a test launch on Monday, April 17 for the SpaceX Starship, only to scrub that launch until this past Thursday. Well, the results from the launch were less than desirable—or were they? While Starship ultimately exploded just prior to stage separation, simply clearing the launchpad was considered a major milestone by SpaceX.
04/17/2023 | I-Connect007 Editorial Team
Welcome to the Spring issue of IPC Community! This quarterly publication was created with you in mind! In this issue, you'll find articles, interviews, columns, graphics, surveys, IPC member benefits, and so much more. Each issue is designed to celebrate the success between IPC and its members and how this relationship benefits the entire electronics manufacturing industry.