Reading time ( words)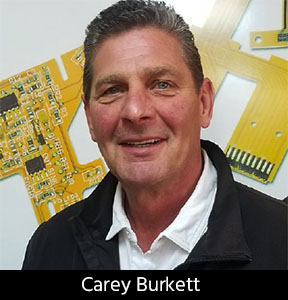 After the initial impact of the global pandemic led to a somewhat flat 2020, Carey Burkett, vice president of Flexible Circuit Technologies, explains how the company's growth took off in 2021, positioning it well for industry trends that continue to show great promise in medical, automotive, consumer, and more. In this interview, Carey breaks down the reasons behind the company's recent success and how R&D, and a new Zhuhai facility, have positioned them for continued growth.
Andy Shaughnessy: Carey, will you talk about the environment that you're seeing?
Carey Burkett: It's an interesting time in this industry. To a large degree, whether it's COVID, increased costs, global instability, and all the turmoil around us, many industries and businesses can be quite impacted. Yet we're fortunate, given that the need for electronic solutions just keeps growing across almost every industry. We've been in a good position because we specialize in specialty interconnects, particularly flex, flexible circuits, rigid-flex, and flexible heaters, where there are growing needs given continued industry trends.
Beyond growing needs for our products, customers continue to want more. We do EMS assembly all the way to product module and complete product box builds. Customers are often narrowing their supply chain, as they seek to identify suppliers that can do more, so we continue to grow in all aspects of our business. You look at the trends across industries, whether it's mobility, miniaturization, Internet of Things, connectivity, wearables, packing more electronic capability into tighter spaces—it all lends to the need from product developers for the type of specialty interconnects that we produce. Those trends are pushing people to our types of products and services.
With our all our production facilities being in Asia, we focus on the commercial markets including medical, consumer products, automotive, industrial, telecom data, and more; and we see continued growth across all markets. The significant growth in the need for specialty interconnects has led to a shortage of true engineering design expertise within our industry. To help customers get to cost-effective solutions quickly, one must have an understanding of the materials and materials properties, including how they will function and perform. Further, how many projects, designs, successes, and failures does your design expert have related to specialty interconnect designs? The fact is, specialty interconnects are often utilized in challenging applications, and by having expert design support one will increase the project success rate while getting to a cost-effective design that performs within these challenging applications. Given these facts, some good questions a customer may want to ask include: Who is helping me with my design? What level of experience do they bring to my project?
Mark Finstad, our director of application engineering, is one of the top flex experts. He is vice chair for all the IPC flex circuit committees, a lead educator on flex, and a noted columnist. Mark has built a team here at FCT where all our senior application engineers offer 30-plus years of experience in designing flex, rigid-flex, and flex heaters. They understand the materials, the material properties, and what can and can't be done; they've literally addressed thousands of applications. That expertise helps our customers get to cost-effective designs that will perform. From there, it is about delivering quality products at competitive prices, on time. Our FCT China team does an outstanding job, and our facilities offer the following certifications: ISO 9001, ISO 14001, ISO 13485, and IATF 16949 for automotive. Further, we perform product box builds for FDA-registered product programs for medical companies, where we must meet stringent traceability requirements. Our quality systems are robust, and we offer deep expertise as one of the top assembly-on-flex companies in the world. We have built our organization, FCT USA and China, together over the past 20 years. Our team in China works with an incredible sense of urgency and does an outstanding job of producing high quality products for our customers.
Certainly, expert design and the ability to build quality products that we deliver on time are keys to success, but providing highly responsive support to our customers is key as well. It's interesting, as many companies have moved away from where you can actually talk to a person when you are seeking support or assistance. At FCT, we believe in "being great at the things that don't require that much talent." This relates directly to providing our customers with outstanding support—pick up the phone, answer the email, provide our customers with an update, call the customer, and provide outstanding support. Many of our customers have provided us with great feedback related to how we care for them.
All this has led to very good growth for us. From 2015 to 2019, our company doubled in size. In 2020, the first year of COVID, we were flat. Last year, we experienced 25% growth year-over-year. That was a big growth year for us, which was outstanding given the challenges with components, dealing with COVID, and other issues. So far, 2022 has been an exciting year for us as well as we continue to attain strong results and we have an outstanding pipeline of opportunities that we are working on.
To read this entire conversation, which appeared in the August issue of PCB007 Magazine, click here.
Share
Suggested Items
05/12/2023 | Andy Shaughnessy, I-Connect007
This week's must-reads contains a veritable potpourri of information from around the industry. We have a Pete Starkey review of the latest EIPC webinar on ultra HDI and thin film resistors, an interview with the founder of an electronics trade school in Texas, and an update from PCBAA about their lobbying efforts in Washington. We also have news about our brand-new podcast, or "pod," as the kids say, and a column about the wisdom of Don Draper that just might serve technologists and managers well. Read on, folks!
03/17/2023 | Andy Shaughnessy, Design007 Magazine
The captive shop used to be the rule, not the exception. Until outsourcing caught on, that is. North American captive shops went the way of the dodo bird, and the PCB market hasn't been the same since. Even R&D went out the window, or offshore, if you want to be technical about it. But Schweitzer Engineering Laboratories (SEL) is something of a wild card. The company recently opened a new captive facility in Idaho, and the industry is paying close attention.
10/30/2022 | Andy Shaughnessy, Design007 Magazine
We recently conducted a roundtable with a team of printed electronic circuit experts from companies that run the gamut: John Lee and Kevin Miller of Insulectro, Mike Wagner of Butler Technologies, Tom Bianchi of Eastprint, and John Voultos of Sheldahl Flexible Technologies. In this third and final installment of the roundtable, these experts discuss some of the differences and similarities between PEC and traditional PCB processes, the future of printed electronic circuits, and why the best way to learn about this technology is through networking with veterans of this segment who are eager to share their expertise with the next generation.