Reading time ( words)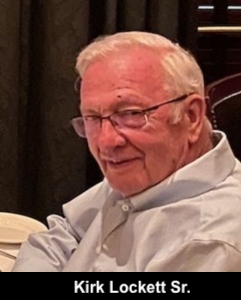 Kirk T. Lockett Sr., former president, owner, and operator of Intermountain Circuit Supply, passed away on Dec. 7, 2022.
Kirk spent 30 years of his career with DuPont, where he had been a member of its senior management. That was followed by 12 years leading Intermountain Circuit Supply, which was later purchased by IEC USA in 2012. Kirk retired from IEC and the PCB industry in 2021.
In announcing his passing, IEC released the following statement:
"As we move through our lives, there are those unique individuals who make a monumental impact in just their very presence and ability to make us feel cared for, at ease, and important. For those of us who had the pleasure of working with him at IEC, we experienced that Kirk was one of those people. There are no words, and not enough letters in the alphabet to convey how much we care for Kirk and his lovely wife Judy, nor to illustrate how wonderful a person Kirk was."
The company noted his encouragement to his associates, his kind and gentlemanly ways, and "the twinkle in his eye, matched only by his sideways grin." Thinking about Kirk "always brings an avalanche of happy memories, and in this moment, tremendous emotion of a loss of one of the greats."
Funeral arrangements are pending from Kiesinger Funeral Services Inc., 255 McAlpine St., Duryea, Pennsylvania. More details will follow on the IEC LinkedIn page.
(2012) Shawn Stone, Kirk Lockett Sr., Chuck Williams
(2021) Judy Lockett, Shawn Stone, Chuck Williams, Kirk Lockett Sr.
Share
Suggested Items
12/13/2022 | Pete Starkey, I-Connect007
Regardless of the potential distraction of the international football match between England and Wales in the World Cup competition, an enthusiastic crowd of PCB fans gathered in Meriden UK for the Institute of Circuit Technology Christmas Seminar, an eagerly-awaited networking opportunity that included a face-to-face industry welcome event and an outstanding technical programme. Guest speakers highlighted new technology in selective solder nozzles, flexible circuits, industry cooperation, and a greener future by recycling PCBs.
10/31/2022 | Andy Shaughnessy, Design007 Magazine
I recently met with Daniel Thau, CEO of Millennium Circuits Limited, at PCB West. This Pennsylvania-based PCB distributor has been on an expansion path lately, so I asked Daniel to introduce us to MCL and explain where the company is headed. As Daniel says, it's all about impacting the world in a positive way.
09/13/2022 | I-Connect007 Editorial Team
We recently spoke with longtime I-Connect007 columnist Michael Carano, vice president of quality at Averatek, about pricing strategies for PCB fabricators. We're seeing some movement in this segment as fabricators, already dealing with some of the tightest profit margins around, find themselves having to either raise their prices or trying to massage more revenue out of their already streamlined processes. We asked Michael for some pricing strategies for fabricators, and he shared a range of options for today's manufacturers who aren't afraid to rethink their processes and try new ideas. And, as he says, people will still pay good money for a quality, reliable PCB.