Reading time ( words)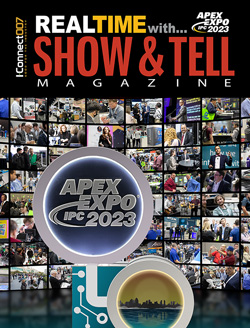 We are thrilled to announce the release of the sixth edition of Real Time with… IPC APEX EXPO 2023 Show & Tell Magazine, an exclusive, annual review of IPC's trademark event. In this issue, you'll find insightful articles, interviews with award winners, and reviews of the speakers, conferences, and courses.
(Re)live the experience through hundreds of high-quality images, hear from our technical experts, and watch videos that capture the flavor of the entire event.
You'll also learn more about the IPC Design Competition and gain insights from our show reviewers. Experience IPC APEX EXPO 2023 through our hundreds of high-quality images, hear from our many technical experts, and watch fun videos that capture the flavor of the entire event.
"We specifically designed this issue so that whether or not you attended the event, you would be able to get a comprehensive feel for the whole show," says Michelle Te, managing editor of Show & Tell Magazine. "There is so much to see and do while you're there, it's impossible to experience it all. We wanted to provide an immersive experience through words and images. There's definitely something for everyone. We also encourage you to use this as a resource guide throughout the year. It's something you'll want to refer to again and again."
We have enjoyed putting this issue together for you and hope you will enjoy it as well. Please share it with your colleagues and friends!
Share
Suggested Items
09/08/2023 | Nolan Johnson, I-Connect007
As I looked over the news and stories of the week, I noticed "firsts" from Insulectro and Lockheed Martin, plus a historic transition in leadership at Foxconn. There's also financial health from KLA, and upbeat market data from IPC. With the start of a new school year, and often a fiscal year, September brings a sense of newness and change for many of us.
09/01/2023 | Andy Shaughnessy, Design007 Magazine
As we head into the Labor Day weekend, we have a variety of articles for this week's editor's picks. Hannah Nelson discusses the onboarding process she went through when she started a new job. Gaurab Majumdar explains why tech companies should consider hiring workers from India. Happy Holden details the importance of great sensor technology and why sensors are a critical ingredient in Smart manufacturing processes. Mike Brask discusses the new IPS ENIG line installed at the SEL facility in Idaho, and Chris DeMartino explains how Modelithics works to provide simulation models, primarily for the RF/microwave community.
09/01/2023 | Peter Tranitz, IPC
When IPC staff wanted to showcase the latest industry developments to a European audience, they made an obvious choice: Timișoara, Romania. The dramatic economic expansion here over the past 30 years has resulted in a large concentration of manufacturing and technology businesses. Long-term planning by authorities positioned the city as a business-friendly and diverse cultural hub on the western border, providing easy access to Central Europe.