Reading time ( words)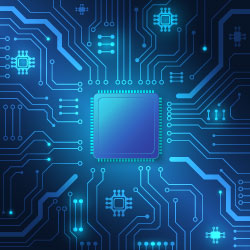 BANNOCKBURN, Ill., USA, March 27, 2023 – IPC, the global association representing the electronics manufacturing industry, welcomes the action of U.S. President Joe Biden today in issuing a "presidential determination" that prioritizes the domestic development of printed circuit boards (PCBs) and advanced packaging, including IC substrates, under Title III of the Defense Production Act (DPA).
IPC, along with partners including the U.S. Partnership for Assured Electronics (USPAE) and the PCB Association of America (PCBAA), has been calling on President Biden to address urgent industrial base vulnerabilities and deliver on the promise of the CHIPS Act through a "silicon-to-systems" innovation strategy, which today's determination will help achieve.
IPC President and CEO John Mitchell said, "Increasing domestic chips production without bolstering the manufacture of cutting-edge PCBs and IC substrates risks lengthening the semiconductor supply chain, because many of the chips made in California or Ohio will still have to be sent outside of the United States for packaging and assembly into finished products.
"The erosion of U.S. PCB capabilities and capacity has compromised national and economic security, as the U.S. share of global PCB production has fallen from 30% to 4%, making the nation heavily reliant on a global supply chain that is itself in turmoil," Mitchell added. "Today's presidential determination is a key step toward moving beyond a silicon-only mindset and rebuilding the wider U.S. electronics manufacturing industry. We look forward to working with Congress and the Executive Branch to ensure this effort is fully funded and implemented."
On Friday, President Biden announced an additional $50 million in Defense Production Act funding for U.S. and Canadian companies to invest in advanced packaging for semiconductors and printed circuit boards. On Feb. 23, Commerce Secretary Gina Raimondo said the U.S. will develop multiple high-volume advanced packaging facilities and become a global leader in chip packaging technologies. The Biden administration's year-long assessment of the ICT supply chain, released in February 2022, highlighted the importance of PCB fabrication and assembly in electronics manufacturing and recommended that government programs like Title III be used to bolster the strength of U.S. PCB manufacturers. The issuance of this presidential determination is a crucial first step towards securing the domestic supply of these critical electronic components.
IPC looks forward to continuing to work with the Biden administration, the U.S. Congress, and industry partners to support long-term policy and funding to rebuild the entire ecosystem that sustains innovative, resilient, and secure electronics manufacturing.
For more information, visit www.IPC.org.
Share
Suggested Items
09/01/2023 | Peter Tranitz, IPC
When IPC staff wanted to showcase the latest industry developments to a European audience, they made an obvious choice: Timișoara, Romania. The dramatic economic expansion here over the past 30 years has resulted in a large concentration of manufacturing and technology businesses. Long-term planning by authorities positioned the city as a business-friendly and diverse cultural hub on the western border, providing easy access to Central Europe.
08/25/2023 | Nolan Johnson, I-Connect007
This week's editor's picks come from the top end of reader interest, so I don't think it's just me who's sensing this kind of momentum. For example, we bring you a site visit to one of the newest PCB fabs in North America, and a captive facility at that. Nokia is now manufacturing sophisticated telecom optical components in the United States, and iNEMI publishes a roadmap assisting in specifying the right low-loss material for your particular application, among other topics. To wrap it up, we get NASA news that reminds us that we need not be a big corporation to participate in space programs.
08/22/2023 | Barry Matties, I-Connect007
After years of planning, Schweitzer Engineering Laboratories is now manufacturing printed circuit boards in its new $100 million captive facility in Moscow, Idaho. I recently toured the facility with Engineering Director John Hendrickson, who managed the design and setup of the greenfield site, along with Mike Brask, president of Integrated Process Systems (IPS), a key supplier for the new Moscow facility.