Reading time ( words)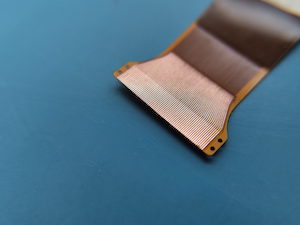 Trackwise Designs plc has revealed that its length-unlimited flexible printed circuits (FPCs) are driving product innovation in many sectors, as design engineers apply the Trackwise-patented Improved Harness Technology (IHT) FPC technology to solve their design challenges and enable smarter and more advanced products.
Trackwise's IHT process enables the manufacture of multi-layer, flexible printed circuits of unlimited length, delivering significant space and weight savings, increased reliability and repeatability, and reduced assembly time. IHT FPCs can withstand the harsh environments found in aerospace, automotive and industrial applications, but can also be made small enough to replace microwires in medical applications such as catheters.
"The diversity of applications using our IHT FPCs to drive product innovation is huge," states Philip Johnston, CEO, Trackwise. "Design engineers have been quick to recognise the significant advantages of IHT FPCs. It is inspiring to see their visions for future products being realised as they take advantage of replacing conventional interconnections and wiring harnesses with our lightweight, smaller, cheaper, more reliable and repeatable alternatives."
Examples of customer innovations inspired by the company's IHT FPCs which are being evaluated or are in development include:
AgriTech: supply chain challenges and concerns about sustainability and food-miles are driving demand for agritech applications such as vertical farming in urban environments. Trackwise can manufacture FPCs of any length featuring sensors that enable the monitoring and control of lighting, climate and irrigation required to automate such indoor deployments round the clock.
Wearables: flexible and printed electronics, alongside ubiquitous connectivity, are enabling the use of smart technologies that can worn or embedded into clothing for a wide range of uses:
- MedTech: the improving sensing, connectivity and intelligence provided by IoT and wearable technologies offer new ways to effectively manage the health needs of an ageing population, helping maintain independence, while also increasing comfort and security. Sensors can be sewn into clothing or incorporated into wearable devices, allowing continuous remote monitoring of biomarkers such as temperature, blood sugars and heart rate, as well as location and event-based tracking of accidents such as falls. Alerts can be triggered with medical professionals or the emergency services.
- Smart textiles: whether for fashion or more functional uses, electroluminescent materials and fibre-based micro-LEDs can be woven together with clothing fabrics to create wearable smart textiles, helping improve safety and visibility while running, cycling or dog walking (or even when lost on a mountainside) – or perhaps even just flashing the name of the latest headline act at a concert.
- Sports & fitness: consumer wearables such as smartwatches feed into the 'quantified self' (QS) phenomenon of individuals tracking, gathering and recording a wide range of behavioural, physiological and environmental data in order to monitor and improve overall health. Also, professional sportspeople, from tennis players and footballers to marathon runners and F1 drivers, can use wearables to monitor vital signs, as well as for positional tracking using GPS and IMUs (inertial measurement units).
Industrial sensing: long FPCs featuring pressure sensor arrays, strain gauges or linear measurement sensors can be used to monitor the position and speed of an elevator car in its shaft – or investigate the inside of industrial pipelines.
Heating elements: FPCs can also power heating elements for applications such as de-icing aircraft wings, tails or air inlet scoops – or for innovative applications like electric infrared wallpaper.
Concludes Johnston: "Design engineers are resourceful problem-solvers that are applying these innovative flexible printed circuit technologies to solve their design challenges and enable smarter and more advanced products across a diverse range of industry sectors and applications."
Share
Suggested Items
06/22/2023 | Mike Morando, PFC Flexible Circuits
In a recent interview with Design007 Magazine managing editor Andy Shaughnessy, he asked me about rigid-flex and its new popularity. This seems like a perfect opportunity to dig into the topic and discuss the differentiation between rigid-flex, rigidized flex, and what I am calling a hybrid flex.
03/31/2023 | Andy Shaughnessy, Design007 Magazine
Texans like to say that everything is bigger in Texas. That certainly seems to be the case for the SMTA Dallas Expo & Tech Forum. Publisher Barry Matties and I attended SMTA Dallas on Tuesday, and the tabletop show has now grown to 100 exhibitors, up from 92 vendors last year. It's become more than a local or regional show, with some exhibitors flying in from Silicon Valley and the East Coast.
10/03/2022 | Malcolm Thompson, NextFlex
The chip shortage is by no means over, with estimates expecting it will last into 2023. Some could see it taking even longer, such as Intel CEO Pat Gelsinger, who expects it to see shortages into 2024 due to those now impacting electronics production equipment. But if there's any bright spot to be had, it's that a crisis often leads to long-term solutions. In this case, it's the increase in government funding for semiconductor production in the United States. Once the CHIPS Act proceeds, we can significantly accelerate building semiconductor fabs in the United States and work toward preventing future chip shortages that would put us back into our current situation.