Reading time ( words)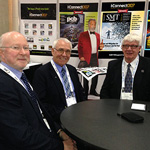 At IPC APEX EXPO 2015, I caught up with EIPC's Michael Weinhold and Alun Morgan for a discussion on both recent and ongoing focuses for EIPC, and the importance of the alignment of global standardization processes, especially for Asia.
Pete Starkey: I'm here with two gentlemen from the European Institute of Printed Circuits Technical Director Michael Weinhold, and Chairman Alun Morgan.
Alun, can you get us started by describing the successes of recent times since you joined EIPC? You had a conference recently. What was the outcome of the conference?
Alun Morgan: Yes, we had a very successful conference in Munich at the beginning of February. In fact, that marks the fifth event that we've had this year, so we've carried out four workshops and one conference in the space of the first, say, five weeks of the year. That's pretty encouraging. The conference was in Munich. We attracted nearly 90 delegates from 11 different countries to attend. We usually find the conferences work very well when we have a good agenda, which means we have good technical presentations. We have an accessible venue, which Munich certainly was. And third we have a good attraction. We were able to organize a visit to the Eurofighter production line in Manching, courtesy of Airbus Defence and Space, which I was very pleased they agreed to. I think those three things came together and gave us a very exciting conference.
Highlights include a session on reliability, which was very well reviewed and commented upon, and we will certainly run a road show of workshops on reliability. So we'll bring together some of the key speakers from the events and we'll run those out into the next few months where we hope to attract a lot of interest.
The other item we covered in some detail was signal integrity, which is becoming more and more important in many applications. We had a very nice overview of that, including an aspect from a chemical supplier, who has proposed a new treatment for the oxide side of copper. We know very well what the profile of copper does to signal integrity. Then we got another view that we haven't really had in the last couple of years that really made it nice and rounded. So now we have a very nice view from the people like Polar Instruments, who provide the test equipment, from the board shops, the fabricators, from chemistry supplies and for laminate suppliers.
All in all, a great package that we can also road show as a training workshop. So I think we'll certainly roll that out in the next few months. We're looking forward now to SMT in May which will be in Nuremberg, where again I've been invited to deliver a keynote speech in the PCB forum. And then our next conference in June will be in Berlin.
Starkey: May I ask you what will be the topic of your keynote speech?
Share
Suggested Items
03/29/2023 | Andy Shaughnessy, Design007 Magazine
Andy Shaughnessy talks with John Andresakis about how the merger of resistive foil technologies from Ohmega and Ticer has evolved under the new ownership of Quantic. Andresakis also shares how these materials are finding new applications, especially in the embedded component application space, as the company reaches out to the new generation of PCB designers and design engineers.
03/16/2023 | Pete Starkey, I-Connect007
Widely believed to be the traditional Centre of England, Meriden was a popular venue for a gathering of the UK printed circuit community this month. They braved the forecast of heavy snow for the Institute of Circuit Technology's annual general meeting to learn about current developments and challenges in a thought-provoking technical seminar and to network with industry peers and contemporaries. Thankfully, the forecasted heavy snowfall did not reach Meriden until after the event; we only had a few flurries, although the weather caused considerable disruption elsewhere in the country.
02/28/2023 | Pete Starkey, I-Connect007
Day 2 of the EIPC Winter Conference at the Groupama Stadium in the Décines-Charpieu region of the Metropolis of Lyon in eastern France included a privileged visit to the Bugey Nuclear Power Plant for those who were registered and passed their security clearance. Such was the interest that the party was split into morning and afternoon groups. EIPC board member Martyn Gaudion, CEO of Polar Instruments, made a fine job of moderating Session 6 twice over.