Reading time ( words)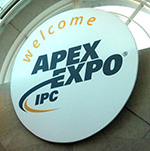 At the International Reception, held opening night of IPC APEX EXPO 2015, I-Connect Technical Editor Pete Starkey made the rounds and found some visitors from Japan, namely, Kazutaka Masaoka, from Thermosetting Plastics Association (JTPIA). In this brief interview conducted amongst the reception attendees, Masaoka-san and Starkey discuss Japanese vs. North American circuit board quality and business trends.
Pete Starkey: Masaoka-san, it's a pleasure to meet you here.
Kazutaka Masaoka: Nice to meet you.
Starkey: Could you give me what brings you to San Diego for IPC APEX EXPO, and also some idea of your first impressions?
Masaoka: Yes, thank you. Originally, I'm from Hitachi Chemical. I was 60 years old when I retired, and then I moved to the Association. Before that, I worked in R&D, on the development of dry film photoresist—for a long time. So I've been interested in this kind of exhibition for many years, and I've enjoyed seeing the technical trends moving and changing year by year, generation by generation. For example, at the start of developing my product, the focus was how many lines can fit between through-holes? When I started to work, in terms of that, it was just two lines between through-holes, but the technology today is changing so much. It's very impressive.
Starkey: We have always looked to Japan for the leading edge in technology. How do you see the comparison between the technical capability now in Japan and the technical capability now in North America?
Masaoka: Basically, previous circuit boards in the West were based on the military application. They were known for their polymer substrate, and you know that type of substrate has to have high temperature resistance and be of very high quality. But at that moment, 20 or 30 years ago, the U.S. technology level was very high, and our Japanese quality of the previous circuit board not. Since then, the Japanese people have made a lot of effort to improve the capabilities of their circuit boards. But the U.S. is moving as well, and changing and developing year by year. So perhaps quality of the previous Japanese circuit board is very close to yours, but still competing. I think we need to have some impact or stimulation from technology or market or people.
Starkey: So what would you say is your main purpose coming here to this convention?
Masaoka: To look at the typical trends and observe the markets.
Starkey: Masaoka-san, thanks for your time and best of luck this week.
Masaoka: Thank you.
Share
Suggested Items
03/03/2023 | Happy Holden, I-Connect007
We were back in San Diego, maybe for a "long vacation," as IPC APEX EXPO is in Anaheim next year. Before we get to Anaheim, though, let's talk about the show: It was a great week. I spent Sunday and Monday visiting some excellent Professional Development courses. As you know, this is a fast-changing industry, and we have to keep learning to stay ahead. On Monday, I attended the Microvia Weak Interface/Reliability subcommittee, and on Tuesday, the Ultra-HDI Technology Committee.
12/28/2022 | Nolan Johnson, I-Connect007
Nolan Johnson checks in with Sean Langbridge, European sales director for CyberOptics, at electronica to discuss details of the recent merger between CyberOptics and Nordson and the partnership's potential benefits for customers, especially regarding solutions geared toward enhancing the accuracy of test and inspection in advanced packaging. The company's unique optical technologies, including its MRS sensors and AI² software, are already saving customers hours on the line; with Nordson's X-ray capabilities in the mix, CyberOptics sees some very compelling technological solutions on the horizon.
12/28/2022 | Pete Starkey, I-Connect007
Pete Starkey talks with Kevin Domancich at Essemtec at electronica 2022 about the company integration within Nano Dimension and how the two companies have pioneered an exciting new end-to-end manufacturing solution that helps customers speed up production, cut costs, and keep their proprietary materials secure. In a world where time to market has become a priority consideration, this universal system has the potential to revolutionize the industry.