Reading time ( words)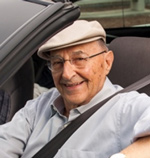 I sat down with longtime friend and IPC Hall of Famer (1991) Bernie Kessler of Bernard Kessler & Associates at IPC APEX EXPO 2015 in San Diego. Among other things, we discussed the early days of IPC, and the beginnings of APEX EXPO.
Patty Goldman: Bernie, you were originally with Mica Corporation, a laminate supplier in California, and you then started your own consulting business in 1979. You are also quite possibly the eldest statesman here at IPC. How are you doing?
Bernard Kessler: I'm doing great. I should have brought the cover of People's Magazine in which I appear this month [March, local CA doctor's office version]. I had a heart procedure about a year ago. Apparently, it's new and the hospital is trying to promote it, so they asked me if I would appear at a dinner and recite the change in my lifestyle as a result of the procedure. I said I'd be happy to appear at dinner and asked what they planned to serve. I mean, what else am I supposed to do? Then they went one step further and they said, "Would you agree to appear in an ad?" So I had a series of interviews that they oriented towards the heart procedure and the change in lifestyle and not what I actually said. So, we can do the same here for this interview; I don't mind it. Edit in any fashion you wish [chuckles].
Over a length of time, when you're associated with a company, and that company experiences growth, and growth incorporates the idea of not only new products, but also new people, we don't necessarily recognize it but the company is really not the same company through the years. Now, with that in mind when your employee level is 100 and people join you, they join a hundred employees. When it's two thousand, they join two thousand people, and the experiences start to differ.
Now I take a look around here, look at this show and the size of it and how much it has changed as it has grown. And I remember the concerns we had when we first discussed having a show along with the IPC meetings. I forget what we called it...
Share
Suggested Items
03/29/2023 | Andy Shaughnessy, Design007 Magazine
Andy Shaughnessy talks with John Andresakis about how the merger of resistive foil technologies from Ohmega and Ticer has evolved under the new ownership of Quantic. Andresakis also shares how these materials are finding new applications, especially in the embedded component application space, as the company reaches out to the new generation of PCB designers and design engineers.
02/28/2023 | Pete Starkey, I-Connect007
Day 2 of the EIPC Winter Conference at the Groupama Stadium in the Décines-Charpieu region of the Metropolis of Lyon in eastern France included a privileged visit to the Bugey Nuclear Power Plant for those who were registered and passed their security clearance. Such was the interest that the party was split into morning and afternoon groups. EIPC board member Martyn Gaudion, CEO of Polar Instruments, made a fine job of moderating Session 6 twice over.
02/27/2023 | Pete Starkey, I-Connect007
The EIPC Winter Conference returned to the Metropolis of Lyon in eastern France this month. In 2018, the venue was Villeurbanne in the Auvergne-Rhône-Alpes region. Five years later the setting was the Groupama Stadium in Décines-Charpieu, and leaders of the European printed circuit community gathered in expectation of a spectacular programme of 16 presentations, a visit to a nuclear power station, and an invaluable networking opportunity. They weren't disappointed.