Reading time ( words)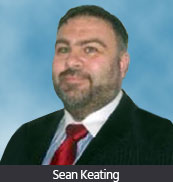 I-Connect007 Technical Editor Pete Starkey caught up with Amphenol applications engineer Sean Keating at IPC APEX EXPO in San Diego. Keating explains his company's commitment to proactive participation in the establishment of standards, his personal experience working on standards committees, and his view on the importance of harmonised global standards.
Pete Starkey: It's nice to see you here at IPC APEX. I understand Amphenol is strongly interested in standards and that you are personally active on some committees. Start by telling us about that.
Sean Keating: Amphenol UK is very proactive in a number of the standards, in particular the certification standards. I have been working closely with IPC for about six or seven years now. My secondary reason for being here is that this is a fantastic forum for problem solving.
Any problems that have cropped up over the weeks or months prior to the show can often be resolved using the immense technological think tank that's here on the show floor, in the meetings, or even in the bar!
I'm on nine committees right now, from low pressure overmoulding to electronics in space, and I would say we're probably working 10+ hours a day. It's a busy week for a number of the standards; much of my focus is on the IPC/WHMAA-620 cable and harness training committee, which is meeting on Thursday to discuss training. We are looking at having a more robust practical course that will be certifiable.
This will mean that when you certify to that standard you have demonstrated the skills and proven ability to actually build a harness—not just inspect it. Perhaps, depending on how the committee decides, there will be different levels of harness ability or skill, but we will have to wait and see on that one!
Starkey: IPC and IEC are really recognized as the world's standards authorities, but do you notice that some of the standards are originating from Asia and taking some prominence?
Keating: Certainly not with anything we're doing in Europe, but I cannot answer for the whole group as we have facilities in more than 40 countries, worldwide. IPC, without doubt, has the lion's share of standards, which are imposed on us by our major customers. As a design and manufacturing facility we get standards imposed on us as well as what we pass onto our subcontractors. Virtually all of our major customers now have IPC standards of one type or another noted on their drawings. I've been with Amphenol for 26 years and for the last 10–12 years this has grown from occasionally seeing an IPC standard called out to the point now where nearly every single callout references an IPC standard.
Starkey: Provided that there is some international cooperation and our colleagues in Asia are prepared to recognize Western standards and cooperate with them, there is worldwide harmony.
Keating: Absolutely, and with Amphenol being a global company, we actually help train and facilitate at our India and China locations, so that within Amphenol worldwide, we're working to the same standard. And that harmony is absolutely imperative. It also means that when we talk to them, when we look at them as low cost manufacturers, we can talk at exactly the same level and about the same things. So it really has been helpful.
Starkey: Sean, thanks very much for your time.
Keating: Thank you, Pete.
Editor's Note: This article originally appeared in the May 2015 issue of The PCB Magazine.
Share
Print
Suggested Items
03/11/2021 | Elmatica
This is how Norwegian PCB broker Elmatica said "thank you" to IPC for selecting Jan Pedersen for the Dieter Bergman IPC Fellowship Award. And you think you've had a cold winter! The Elmatica team definitely has a great sense of humor. Let's all congratulate Jan for his work with IPC, including updating PCB standards and helping to streamline the design data process.
02/24/2021 | Patrick Valentine, UYEMURA USA
The concern for quality control and reduced product variation can be traced back centuries. Archaic quality control methods were used by the Xia Dynasty in 2100 BC in ancient China. During the late 1290s in medieval Europe, guilds—the pre-cursor to unions—were responsible for product and service quality. From 1700 to 1900, product quality was determined by the individual craftsman's efforts. At the close of the 19th century, Eli Whitney introduced standardized, interchangeable parts to simplify assembly.
12/22/2020 | David Hernandez and Carlos Plaza, IPC
Over the past three decades, IPC standards and certification programs have played a critical role in protecting public safety and promoting excellence by ensuring the quality, reliability, and consistency of electronic products. In 2019, IPC worked with its global network of certification centers to certify over 108,000 individuals across 200 countries and 21 languages to seven IPC standards. The ubiquitous adoption of these programs speaks to the strong partnership forged between IPC and the electronics industry.