Reading time ( words)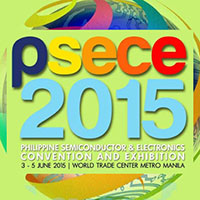 Integrated Micro-Electronics Inc. (IMI) recently participated in the biggest annual convention and exhibition of leading technology companies in the country, the Philippine Semiconductor and Electronics Convention and Exhibition (PSECE) 2015. The PSECE was held this year at the World Trade Center from June 3 to 5.
The theme for this year's convention and exhibition was Manufacturing and R&D: Levelling up the Philippines' Capability.
IMI showcased the automotive camera as the main attraction in the exhibition booth. The camera offers excellent thermal management properties (superior performance with various temperature monitoring devices) and optical performance despite its small size.
Present during the start of the plenary session was Manuel Araneta Roxas II, secretary of the Department of Interior and Local Government (DILG). "The steady recovery in the electronic industry's revenues can be attributed to the growth in demand, particularly for the automotive and consumer electronics as the global economy improves," Roxas said.
The PSECE is a venue where semiconductors and electronics manufacturers along with other support industries gather together annually to highlight their products and services ranging from consumer electronics, computer related products, semiconductors, communications radar, automotive electronics, photovoltaic/solar, office equipment, telecommunications, control and instrumentation, medical, industrial and other support industries such as fabrication, tooling, equipment, utilities and more.
Also known as the Philippines electronics industry's business platform, this year's annual convention and exhibit was participated in by over 150 exhibiting companies.
PSECE 2015 was produced and organized by the Semiconductor and Electronics Industries in the Philippines, Inc. (SEIPI), the leading and largest organization of foreign and Filipino technology companies in the Philippines.
About IMI
Integrated Micro-Electronics Inc. (IMI) is one of the leading global providers of electronics manufacturing services (EMS) and power semiconductor assembly and test services with manufacturing facilities in Asia, Europe, and North America. It serves diversified markets that include those in the automotive, industrial, medical, telecommunications infrastructure, storage device, and consumer electronics industries. Committed to cost-effective and innovative customized solutions (from design and product development to manufacturing and order fulfillment), the company's comprehensive capabilities and global manufacturing presence allow it to take on specific outsourcing needs. A subsidiary of Ayala Corporation, IMI is listed on the Philippine Stock Exchange. For more information, visit www.global-imi.com.
Share
Suggested Items
12/19/2022 | Gaurab Majumdar, IPC
For the first time, IPC APEX EXPO will host an "India Pavilion," showcasing 16 Indian companies promoting India's electronics manufacturing capabilities. The initiative was undertaken by the Ministry of Commerce & Industry, Government of India, and implemented by the Indian government agency, Electronics and Computer Software Export Promotion Council (ESC) India.
11/08/2022 | Nolan Johnson, I-Connect007
The message can't be emphasized enough: Producing IC substrates overseas weakens America's position and national security. In this frank discussion with Will Marsh, president of PCBAA, he talks about his efforts to educate government policymakers on the dire need to consider the entire microelectronics ecosystem. There's power in numbers, Will says, and he sees the association's efforts making a difference.
11/08/2022 | Art Wall, NextFlex
The recent approval of the CHIPS Act has reignited the U.S. semiconductor industry and shone a spotlight on the intricacies involved in chip manufacturing. As new technological innovations—such as 5G, IoT, AI, automotive and high-performance computing—come to market, they're pushing chip manufacturing and integration capabilities. They demand more performance which leads to added complexity in an already extremely complicated process. All this requires a fundamental shift in the way that semiconductors are manufactured and integrated.