Reading time ( words)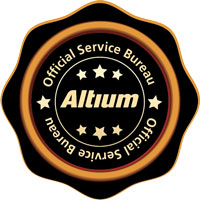 North American design and engineering firm Freedom CAD Services has recently been named an official Altium Service Bureau. Altium's service bureaus are independent service providers that have been qualified to use Altium products and solutions to service their customers and are listed on Altium's website as an official service bureau.
The Altium Designer CAD tool is growing in the PCB design marketplace and Freedom CAD is increasing their commitment in talent and licenses to meet this demand. The recent partnership will now assist customers requiring layout support using the Altium tool flow in finding Freedom CAD on Altium's web list of qualified solutions.
Freedom CAD Services COO Scott Miller comments, "Over the past 5 years we've seen a steady increase in the use of Altium with our customers. As a result, we have been expanding our staff in order to support this growth and are pleased with the functionality and performance of the tool. As one of the largest independent design service bureaus in North America, we service a wide spectrum of OEMs in a variety of markets and find Altium to be broadly used across these market segments and in a variety of applications. Since we specialize in high performance, rules-driven design, we are pleased to see the improvements that Altium is making in this area with their current and future releases."
About Freedom CAD
Freedom CAD Services is a multi-disciplined engineering company specializing in design services for complex high-speed and large electronic systems for the computer, telecom, mil-aero, medical, storage, industrial, automotive and consumer electronics markets. Established in 2003, Freedom CAD's engineering and PCB design team of more than 40 designers have over 1000 years of combined experience using the industry's leading PCB CAD tools to bring extraordinary solutions. For more information, visit www.freedomcad.com.
Share
Print
Suggested Items
06/17/2021 | Dana Korf, Korf Consultancy
The original Star Trek series came into my life in 1966 as I was entering sixth grade. I was fascinated by the technology being used, such as communicators and phasers, and the crazy assortment of humans and aliens in each episode. My favorite episode is "The Trouble with Tribbles," an episode combining cute Tribbles, science, and good/bad guys—sprinkled with sarcastic humor.
04/30/2021 | Ed Acheson, Cadence Design Systems
With the current design transfer formats, rigid-flex designers face a hand-off conundrum. You know the situation: My rigid-flex design is done so now it is time to get this built and into the product. Reviewing the documentation reveals that there are tables to define the different stackup definitions used in the design. The cross-references for the different zones to areas of the design are all there, I think. The last time a zone definition was missed, we caused a costly mistake.
04/29/2021 | Bill Hargin, Z-zero
When Bill Hargin was cutting his teeth in high-speed PCB design some 25 years ago, speeds were slow, layer counts were low, dielectric constants and loss tangents were high, design margins were wide, copper roughness didn't matter, and glass-weave styles didn't matter. Dielectrics were called "FR-4" and their properties didn't matter much. A fast PCI bus operated at just 66 MHz. Times have certainly changed.