Reading time ( words)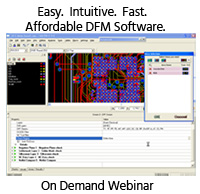 At this webinar you will learn about DFMStream, the new product from DownStream Technologies that provides powerful DFM capabilities in an easy-to- use environment. DFMStream bridges the gap between engineering and fabrication, helps save valuable time and reduces bottlenecks.
The webinar will take place on July 14 at these times:
9:00 AM EDT / 6:00 AM PDT / (2:00PM GMT / 3:00PM CEST)
2:00 PM EDT / 11:00 AM PDT
Identifying DFM Issues Before Fabrication
Preparing PCB design data for manufacturing is a critical step in the new product introduction process. Designs that work in a virtual PCB CAD system may unknowingly break critical manufacturing rules resulting in delayed delivery times as deviations and work-arounds are performed at the manufacturer.
DownStream specializes in tools that work in conjunction with your PCB layout software. Our solutions are designed to work with your in-house processes, as well as with your vendors, to discover better approaches to save both time and resources.
Key Demonstrations
We will demonstrate the Design Analyzer, the new Paste Mask analysis, new features available in Streams Rule Checking, and all the new checks we have developed and announced in Release 11.
DFMStream uses a "Stream" file to queue a series of DFM analysis checks and can combine netlist or layer comparison, design rule verification, fabrication and assembly verification with a single click of a button.
Design Analyzer analyzes the contents and complexity of a PCB design against the capabilities of the PCB fabricator. This functionality helps the user choose the correct manufacturer and reduces hidden costs and unexpected delays.
To register, click here.
Share
Print
Suggested Items
01/17/2022 | Nolan Johnson, I-Connect007
Nolan Johnson speaks with Oren Manor of Siemens Digital Industries Software about the company's booth at IPC APEX EXPO, which will highlight a DSI platform meant to help designers find and use components in their designs during these tough supply chain challenges. If you can't make it to IPC APEX EXPO, don't worry. We'll be bringing you interviews with the engineers, managers and technologists who are making a difference in our industry.
03/31/2021 | Andy Shaughnessy, Design007 Magazine
Jesse Vaughan, a member of the IPC Emerging Engineer program, discusses some of the takeaways from this year's virtual IPC APEX EXPO.
10/26/2020 | Andy Shaughnessy, Design007 Magazine
Andy Shaughnessy speaks with Brad Griffin, product marketing director for Cadence Design Systems, about their new Clarity 3D Transient Solver, which is designed for system-level EMI simulation. Brad explains how the new solver, based on the company's matrix technology, can yield results 10 times faster than existing solvers when simulating IC packages, PCBs, and SoIC designs.