Reading time ( words)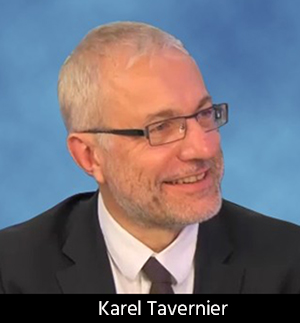 It is clearly possible to fabricate PCBs from the fabrication data sets currently being used—it's being done innumerable times every day all over the globe. But is it being done in an efficient, reliable, automated and standardized manner? At this moment in time, the honest answer is no, because there is plenty of room for improvement in the way in which PCB fabrication data is currently transferred from design to fabrication.
This is not about the format, which for over 90% of the world's PCB production is Gerber: There are very rarely problems with Gerber files themselves. They allow images to be transferred without a hitch. In fact, the Gerber format is part of the solution, given that it is the most reliable option in this field. The problems actually lie in which images are transferred, how the format is used and—more often—in how it is not used.
In this monthly column, Karel Tavernier explains in detail how to use the newly revised Gerber data format to communicate with your fabrication partners clearly and simply, using an unequivocal yet versatile language that enables you and them to get the very best out of your design data. Each month we will look at a different aspect of the design-to-fabrication data transfer process.
This column has been excerpted from the guide, PCB Fabrication Data: Design-to-Fabrication Data Transfer.
Chapter 1: How PCB Design Data is used by the Fabricator
In this first article of the series, we'll be looking at what happens to the designer's data once it reaches the fabricator. This is not just a nice add-on, because for designers to construct truly valid PCB data sets, they must have a clear understanding of how their data is used. This, more than anything else, clarifies how it should be prepared.
We will not look at how to design PCBs for easy fabrication, which is completely outside the remit of the developer of the Gerber format and a matter for the PCB fabricators themselves.
What does a PCB fabricator do with CAD fabrication data?
PCBs are typically fabricated in about 22 steps, many of which are digitally controlled and require dedicated data modules called production tools.
Some designers believe that their PCB fabrication data will drive the fabricator's production machines directly; that the Gerber files will be used directly on the PCB fabricator's photoplotter; that Excellon drill files will go straight onto the fabricator's drilling machines; and that IPC-D-356A netlist will go right into electrical test machines.
Not so. Fabricators never use the Gerber or Excellon files directly on their equipment.
There are many reasons for this, the simplest of which is panelization. Even though the designer's data describes a single PCB or maybe an array, the job is never manufactured as such. It is always put on a production panel, which will typically have multiple jobs on it, as well as a border for plating, test coupons, etc.
To read this entire article, which appeared in the July 2015 issue of The PCB Design Magazine, click here.
Share
Suggested Items
03/23/2023 | Kelly Dack, CID+
Filbert Arzola of Raytheon Intelligence & Space taught a Professional Development course at IPC APEX EXPO on general design practices. During a break, Filbert spoke with Kelly Dack about some of today's design strategies and how designers are reacting to them. What matters most?
03/23/2023 | I-Connect007 Editorial Team
We've heard a lot lately about the need to identify tribal knowledge within our organizations. How do you know whether an "expert" is sharing documented knowledge or it's just something they learned at their first job during the Carter administration? We asked IPC design instructor Kris Moyer to explain his process for separating the wheat from the chaff, so to speak, in design knowledge. As he points out, a true expert will not be afraid to cite the sources and data sets behind their arguments.
03/16/2023 | I-Connect007 Editorial Team
PCB designer Adam Thorvaldson of Innovex was a finalist in this year's IPC Design Competition at IPC APEX EXPO. He came in second place in this final heat, which is quite a feat, considering that the contest started last fall with 49 contestants from around the globe. We asked Adam to share his thoughts on the competition, what it means to be one of the winners, and any ideas about improving the contest for 2024 in Anaheim.