Reading time ( words)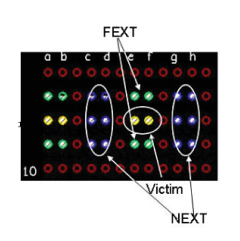 This paper by Mentor Graphics' Vladimir Dmitriev-Zdorov and Zhen Mu discusses two major issues associated with channel crosstalk that have not been fully addressed previously: models from measurements and algorithms for BER prediction.
It presents a practical solution that allows designers to add in near-end or far-end crosstalk characterized by a group of 4-port S-parameters, rather than to perform multiport parameter characterization.
The paper then presents in details two simulation approaches for channel crosstalk: synchronous and asynchronous algorithms, and considers their implementations in time and statistical domains.
Finally, it gives examples of the proposed procedures implemented together with IBIS-AMI buffer models and discusses their comparative advantages and limitations.
To download this paper, click here.
Share
Suggested Items
10/20/2022 | Andy Shaughnessy, Design007 Magazine
Supply chain issues are continuing to cause disruptions in our industry, though lead times have dropped from astronomical to merely troublesome. In this interview, Chris Banton, EMA Design Automation's director of marketing, explains how Cadence's software has evolved as designers' needs have changed in the past few turbulent years, including providing designers with component availability data early in the process.
08/11/2022 | Nolan Johnson, I-Connect007
Nolan Johnson recently spoke with Brad Griffin, product marketing director for Cadence Design Systems, about Cadence's Matrix solver technology. They discuss its use as a multi-disciplinary field solver as well as Cadence's focus on thermal analysis and utilizing the power of the cloud.
08/05/2022 | I-Connect007 Editorial Team
I recently spoke with Todd Westerhoff, product marketing manager for signal integrity software tools at Siemens. We discussed a new capability called HyperLynx Apps that offers a new take on traditional signal and power integrity analysis, and how that fits in with the Siemens plan to put SI and PI tools into the hands of more designers early in the design cycle.