Reading time ( words)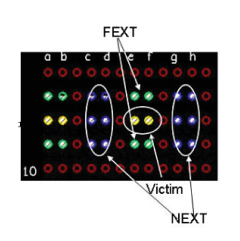 This paper by Mentor Graphics' Vladimir Dmitriev-Zdorov and Zhen Mu discusses two major issues associated with channel crosstalk that have not been fully addressed previously: models from measurements and algorithms for BER prediction.
It presents a practical solution that allows designers to add in near-end or far-end crosstalk characterized by a group of 4-port S-parameters, rather than to perform multiport parameter characterization.
The paper then presents in details two simulation approaches for channel crosstalk: synchronous and asynchronous algorithms, and considers their implementations in time and statistical domains.
Finally, it gives examples of the proposed procedures implemented together with IBIS-AMI buffer models and discusses their comparative advantages and limitations.
To download this paper, click here.
Share
Suggested Items
03/03/2023 | Andy Shaughnessy, Design007 Magazine
Dr. Todd Hubing is a longtime EMC instructor, president of LearnEMC, and a professor emeritus of the Electrical and Computer Engineering program at Clemson University. I asked Todd to discuss the challenges that shrinking silicon can present for traditional PCB designers, as well as the opportunities and benefits of smaller chip features.
08/05/2022 | I-Connect007 Editorial Team
I recently spoke with Todd Westerhoff, product marketing manager for signal integrity software tools at Siemens. We discussed a new capability called HyperLynx Apps that offers a new take on traditional signal and power integrity analysis, and how that fits in with the Siemens plan to put SI and PI tools into the hands of more designers early in the design cycle.
07/26/2022 | Zachariah Peterson, NWES
Today's PCB design engineers have more layout and analysis tools at their disposal than ever before. Over the years we've seen layout tools become more automated, rules-driven, and more integrated. Now we even have integration between design tools from different vendors and ranging across domains, starting with basic circuit design, and spanning up to PLM and ERP integration. It really is a great time to be a designer.