Reading time ( words)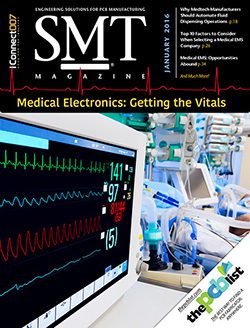 The January 2016 issue of SMT Magazine, with the theme Medical Electronics: Getting the Vitals, is now out. In this issue, we take a look at the medical market to learn what impact it has on the electronics industry and where we see it in five years.
It also discusses key trends driving medical electronics and the challenges and opportunities in the industry.
Download Your Copy of the January Issue of SMT Magazine Here
Share
Suggested Items
12/02/2019 | Nolan Johnson, I-Connect007
Zulki Khan, founder and CEO of NexLogic Technologies Inc., offers his unique perspective on manufacturing trends as a PCB turnkey solutions provider based in Silicon Valley. He discusses additional requirements that are now necessary to compete in different industry sectors, most notably medical, which he says is set for a "digital revolution."
10/23/2019 | Neil Sharp, JJS Manufacturing
E-waste encompasses a myriad of "unseen" metals, semi-metals, and chemical compounds that are found inside circuit boards, wires, and electrical connections. If not handled correctly, chemicals—such as cadmium, barium, lithium, lead, mercury, and beryllium—can present a significant health risk through direct contact, the inhalation of toxic fumes, or the build-up of toxins in water, soil, and food products.
12/26/2018 | I-Connect007 Editorial Team
We recently spoke with Dr. Despina Moschou, lecturer at the University of Bath, as well as Kaspars Fricbergs, VP of global quality, and Tom Reilly, director of marketing and sales operations, of EMS firm Vexos Corp., to learn more about the challenges and opportunities in medical electronics design and assembly, as well as the relevant regulatory and supply chain issues.