Reading time ( words)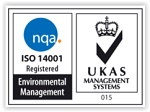 Ellsworth Adhesives Europe is pleased to announce its achievement of ISO 14001:2004 certification, awarded by the NQA.
ISO 14001:2004 is an international standard for Environmental Management Systems. The attainment of this certificate confirms that Ellsworth Adhesives Europe is committed to sustainable development and is actively seeking to reduce the environmental impact of its business with the implementation of environmentally conscious policies and processes.
Such measures taken by Ellsworth include the active encouragement of recycling amongst its workforce, customer base and supplier network, minimisation of waste, pollution prevention, educating staff on environmental issues and promoting environmental awareness, compliance with environmental laws and adherence to guidance issued by the Environmental Agency. The Ellsworth Adhesives' environmental policy can be read in full on the company website.
John Henderson, managing director, comments, "At Ellsworth Adhesives Europe we treat our environmental responsibilities with the utmost seriousness. We acknowledge the potential effect of our operations on the environment, and have been committed to monitoring and improving our ecological performance and impact. To have been awarded ISO 14001 Certification, cements our efforts in this area and provides assurance to our customers of our sustainability."
Ellsworth Adhesives' achievement of the ISO 14001:2001 standard comes just after it was awarded AS9120 Certification in January of this year. The company also has ISO 9001:2008 certification, giving it a total of three quality standards, all awarded by the NQA Certification Authority.
Any queries regarding quality standards at Ellsworth Adhesives Europe should be directed at the company's quality engineer, Douglas Burns, who can be contacted by calling +44 (0) 1355 577 216.
About Ellsworth Adhesives
Ellsworth Adhesives is a global distributor of adhesives, specialty chemicals and adhesive dispensing equipment.
With over 40 years of industry experience, Ellsworth Adhesives is a supplier you can trust. Over the past four decades, we have built an extensive portfolio of products and earned a reputation for providing customers with an accurate and timely delivery.
The expert Sales Team at Ellsworth Adhesives has unrivalled technical knowledge and will identify a solution that is tailored to the customer's specific needs.
For more information, click here.
Share
Suggested Items
05/08/2023 | Andy Shaughnessy, Design007 Magazine
American Standard Circuits provides more services than strictly bare board fabrication. During a recent visit to the ASC facility in West Chicago, Illinois, Nolan Johnson spoke with Bob Duke, president of ASC's Global Sourcing division, about the dynamics of helping a customer source custom commodity subassemblies.
04/12/2023 | Barry Matties, I-Connect007
At Tuesday's SMTA Boise Expo, Barry Matties visited with SMTA Boise Chapter President Tony Whitt, who talked about the genesis of this regional show, and what he's learned about selling in today's digital world. Two big companies in the Boise area support the region's electronics manufacturing industry, and these companies are having the same struggle as so many others—where are the people who actually want to work?
03/21/2023 | Mark Wolfe, IPC
The role of electronic manufacturing services (EMS) companies is very often misunderstood. Some perspectives, however, are helpful to frame the question of what is on their minds, especially in the current global environment. EMS companies build products but they are not really "product" companies. While they may provide design services, the designs are still owned by their customers. As a result, they do not have the right to select or change components. In most cases, the EMS company will still be responsible for purchasing these components which are typically 70–90% of their cost to produce the end products. They also do not determine what volumes should be built.