Reading time ( words)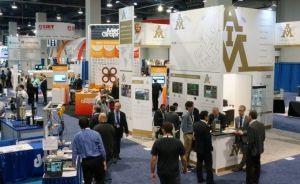 If you didn't make it to Las Vegas for IPC APEX EXPO 2016, don't worry. I-Connect007 has complete coverage of this long-running industry event at our RealTime with... show site.
Thanks to our generous sponsors, the I-Connect007 team was available to cover the show from start to finish. The result? A total of 74 in-depth RealTime with…IPC APEX EXPO 2016 video interviews with the industry's top engineers, technologists, and managers, along with a large collection of photos at the event.
We'll also be bringing you written interviews with these movers and shakers in the next few months, courtesy of The PCB Magazine, SMT Magazine, and The PCB Design Magazine.
So, if you didn't make it to Vegas last week, don't despair. We have you covered. To view I-Connect007's video coverage of IPC APEX EXPO 2016, click here.
Share
Print
Suggested Items
03/30/2021 | Real Time with...IPC
Miles Moreau, general manager for EMEA, Americas & Australia at KIC, shares some details on the new Wave Process Inspection (WPI) solution that KIC is currently rolling out. This solution brings real-time process control capabilities to wave soldering equipment, adding and extending capabilities.
03/24/2021 | Real Time with...IPC
Nolan Johnson and BTU's Rob DiMatteo drill down into the company's new capabilities in vacuum reflow and new technology for flux management, a system that greatly reduces downtime for cleaning and maintenance, among other benefits.
03/19/2021 | Real Time with...IPC
Stan Farnsworth of NovaCentrix discusses how the company has expanded into electronics manufacturing in the past year with its photonic curing and soldering tools.