Reading time ( words)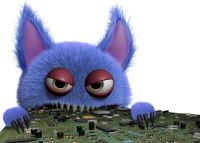 Every step in your assembly line—bareboard loading, solder paste printing and inspection, pick and place, reflow, optical inspection, testing, unloading the assembly, and panelization—is supposed to be designed to perform optimally for you to have an efficient, reliable, robust and reproducible process.
However, and as isolated as they may seem, "gremlins" sometimes appear and mess up the results of a batch, keeping operators and line engineers figuring out what seems to be wrong in their process.
In our recent survey, we asked our subscribers about their pain points when it comes to their processes, whether they need further automation for more control, and what they would like to know more about with regard to improving their process engineering.
Among the greatest challenges cited were equipment issues, materials, soldering and rework, changeovers, quality, and last but not least, management.
When it comes to equipment, some of our respondents consider the never-ending introduction of new machines as a challenge—despite these machines being designed to streamline the production. Perhaps one reason for this is the lack of time for thorough testing of a new process or machine prior to releasing to production.
Respondents also said there is a lack of data acquisition systems with appropriate sensors for data logging over periods of time, and a need for systems to analyze big data to help their process innovation.
For soldering and rework, the pain points include ensuring a robust soldering and rework process for assembly, soldering BGA components, and solder printing.
The frequent production switches among different products are also among the biggest challenges. This leads to quality issues such as time-to-market pressures, respondents say, which cause them to hurry and possibly overlook key process parameters. Still on quality, the respondents say there is also a need to identify all critical-to-function parameters without having to resort to very high sample sizes.
Editor's Note: This article originally appeared in the April 2016 issue of SMT Magazine.
Share
Print
Suggested Items
12/02/2021 | Nolan Johnson, I-Connect007
Nolan Johnson speaks with Dr. Ron Lasky About "The Printed Circuit Assembler's Guide to... Solder Defects." Ron is a full professor at Dartmouth College, but works part-time at Indium Corporation, helping their customers solve defects. This I-Connect007 eBook, he says, is a compilation of all he's learned over the years as well as the deep technical knowledge of the team at Indium.
12/01/2021 | William Webb, ASTER Technologies
Achieving design for test (DFT) can be challenging for both design and test groups, as sometimes both expect that the other will be the one to manage DFT. The design and test groups might be in the same organization, or they could be an OEM vs. an EMS company. It works best if both the design and test groups are engaged in the process of DFT and trying to achieve the goal of the best test coverage and lowest rate of field returns.
11/18/2021 | Nolan Johnson, I-Connect007
Scott Lewin, regional marketing manager for the Americas for MacDermid Alpha, leads Nolan Johnson through what's important in solder, with various scenarios and their impact on EMS efficiency and quality. As Scott explains, "It's not what's new that's important to the customer; it's what's important." If you didn't make it to SMTA International in Minneapolis, don't worry. We have interviews with the SMT segment's top engineers and managers. Visit realtimewith.com now for all the interviews produced by I-Connect007 in partnership with SMTA at this year's event.