Reading time ( words)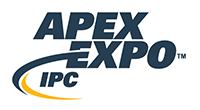 IPC—The Association Connecting Electronics Industries is seeking technical papers for presentation and professional development courses for IPC APEX EXPO 2017.
Presenting at IPC APEX EXPO provides visibility for you and your organization. Thousands of individuals receive the technical proceedings from this event, ensuring that your material will be seen by key managers and executives from all segments of the worldwide electronics industry.
Submissions are sought on design, materials, assembly, processes and equipment in areas from adhesives and advanced technology to underfills and via plugging.
Next year's IPC APEX EXPO, with the theme Technology's Turning Point, will be held from February 12–16 at San Diego Convention Center in California.
For more information, click here.
Share
Print
Suggested Items
12/02/2021 | I-Connect007 Editorial Team
In this engaging, 12-part micro webinar series, Koh Young topic experts Joel Scutchfield and Ivan Aduna examine 3D inspection, AI, CFX, connectivity and smart factory success. Segment 10 is titled "Understanding CFX and Hermes." Before your coffee will even get cold (just over three minutes), in this 10th episode, you will learn how initiatives like the IPC Connected Factory Exchange (CFX) and IPC-Hermes-9852 underpin efforts within the industry to develop standards and help create a smart factory. These M2M communication standards, guided in part by Industry 4.0, are altering the manufacturing process by improving metrics such as first pass yield and throughput by applying autonomous process adjustments.
12/01/2021 | Nolan Johnson, I-Connect007
As summer was waning, I found myself at the airport with my carry-on, headed to a technical conference for the first time in nearly 20 months. During a normal winter trade show season, I keep a "go bag" packed, ready to just grab on my way to the airport. But after more than a year and a half travel-free, my "go bag" had gone. It had long since been unpacked, the contents folded in with my normal household belongings. Repacking my bag was a treasure hunt; I had to remember all the things I'd found useful on the road (and the ones that seemed to be useful but weren't). But once I'd brought all my gear together, and boarded the plane, I felt a familiarity settle over me; everything seemed to be back in place again. I suspect that many of you will have a similar experience (both personally and professionally) as you prepare for IPC APEX EXPO in January 2022.
04/27/2021 | Dan Beaulieu, D.B. Management Group
When searching for companies to interview, I always look for something unique and that makes the company special. Truth be told, I am a collector of stories about good, well-run, unique companies that we can learn something from. Nova Engineering is one of those companies.